Reis Lands Major Grant for Reading Initiative
By Janice Palmer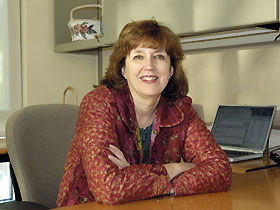 Photo by Dollie Harvey
A reading intervention conducted successfully in two Connecticut schools has helped a UConn researcher land a major federal grant to prove it will work in schools across the country.
Sally Reis, professor and head of the educational psychology department and a principal investigator for the Neag Center for Gifted Education and Talent Development, has been awarded a five-year grant of nearly $3 million from the U.S. Department of Education. The grant will be used to test a reading program she developed to inspire children to appreciate books while increasing their reading ability.
"This is a researcher's dream come true," she says. "To have the U.S. Dept. of Education recognize that this could be ground-breaking research and encourage us to replicate it in new places provides us with a remarkable opportunity."
Consider these recent numbers released by the National Assessment of Educational Progress: 38 percent of the nation's fourth-graders and 28 percent of eighth-graders can not read at their grade level. Connecticut's reading achievement scores remain far better than the national average, but the gap between reading achievement scores of white students and minority students also remains higher than the national average.
In Hartford, the numbers are dismal, with only 29 percent of high school freshmen reading at the ninth grade level.
"Why aren't more children reading, and why are so few reading at appropriately challenging levels?" asks Reis. "You have to engage kids long enough to develop a sense of enjoyment in reading. Too many youngsters are turned off to reading before they're turned on."
Reis began her career as a reading and language arts teacher, but became frustrated after seeing academically talented children being systematically held back from reaching their potential. The experience led her into the field of gifted education and talent development.
"There are too many reading initiatives that don't seem to be making a difference," she says, "and I began wondering, 'What can we do differently that hasn't been done before?'"
She believes an educator's job is to teach students what they don't know, so her program is based on the premise that some students are receiving instruction they don't need, while others are not receiving the instruction that they need very much.
Her answer involves taking an enrichment idea developed for gifted students and using it with students who had been receiving remedial education.
The Schoolwide Enrichment Model Reading Framework, a 12-week reading intervention, was implemented at two low socio-economic urban elementary schools in Connecticut for one year. The second year involved one urban and one suburban school.
The framework is based on the Enrichment Triad Model developed in 1977 by Reis's research colleague and husband, Joseph Renzulli, director of the National Research Center on the Gifted and Talented. It includes three general categories of instruction: exposure, training, and self-selected reading and investigations of self-selected topics.
The reading program's first phase starts with a "book hook" session that in the beginning lasts 10 minutes and eventually builds up to 20 minutes. The classroom teacher reads aloud interesting, challenging books provided by Reis's team. Over the course of the intervention, teachers add to the literature, based on students' interests and experiences. They also are provided with suggestions for engaging students' interests and for expanding the book genres to include poetry, mystery, and science fiction.
The second phase emphasizes the development of students' ability to self-select appropriately challenging books for independent reading. They are guided to books at least one to one-and-a-half grade levels above their current reading ability. If a child shows interest in a less challenging book, he or she is encouraged to take it home to read.
Teachers and the research team circulate the classroom and provide individualized coaching in reading and discussion strategies. The list of appropriately challenging, high-interest non-fiction and fiction materials is provided by Reis's team. At the beginning of this phase, most students read independently five to 10 minutes a day. Within 12 to 14 weeks, this time is expanded to 30 to 40 minutes when students are able to select reading material that interests them.
The third phase encourages students to make their own choices. They are provided time to choose areas of personal interest, such as reading with a friend, working on creative and critical thinking skills in reading, reading on the Internet, or engaging in interest development centers.
The first year of the study involved 264 third, fourth, fifth, and sixth-grade students; in the second year 568 students participated. They were randomly assigned to either the control group, which continued with a traditional remedial reading program, or the treatment group.
Reis, of course, hoped for success, but she never imagined just how effective the program would be. At the beginning of the intervention, 90 percent of the treatment group could not sustain independent reading for more than five to 10 minutes, even if it was a book they chose for themselves. At the intervention's conclusion, 90 percent could read independently for 30 to 45 minutes. The group using the enriched reading program had higher standardized reading achievement tests and higher reading fluency scores. They also had notably higher attitudes toward reading when compared with the control group.
Reis says the results were significant. "The gains we saw here were
not by the most academically-talented students," she notes. "They were found across all achievement levels and were apparent across both years of the study."
With the grant, Reis's team, including colleagues Jean Gubbins and Rebecca Eckert from the Neag Center, will travel to 10 schools in Florida, Minnesota, and New York to see whether this program can work at sites that don't have the benefit of the research team in the class on a regular basis.
Reis, who has conducted dozens of research initiatives over the years, believes this project has been one of her most important and fulfilling research experiences.
"If we can apply gifted education pedagogy to more students, many students will have an opportunity to participate in more enriched, enjoyable learning experiences," she says. "This is especially important for all students who live and go to school in urban areas and come from backgrounds of poverty."