Online Image Database Offers
Easy Access to World of Art
by Sherry Fisher
Architecture, paintings, sculpture, photography, and decorative arts are just a click of the mouse away: ARTstor, a database of some 300,000 images and text, is now available to UConn students, faculty, and staff.
ARTstor is an online image database of "unprecedented size and quality," says Michael Young, art and design librarian. ARTstor's digital library is expected to contain more than half a million images by 2006. The website is http://www.artstor.org/info/.
Judith Thorpe, professor and head of the art and art history department, says ARTstor will be a great benefit to students and faculty.
"In a world so influenced by visual images, it is critical for students and faculty to have access to the important, influential art of the ages," she says. "ARTstor makes it possible for them to have access to many of the most important art collections in the world."
Young says ARTstor will transform teaching, learning, and research.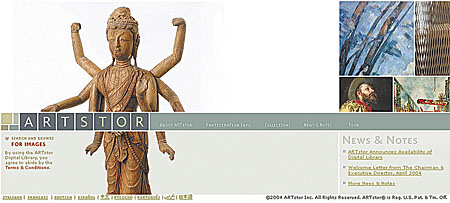 Some 300,000 images of architecture, paintings, sculpture, and photography are now available online to the University community through ARTstor.
"The high resolution images will not only revolutionize the teaching of art and art history at the University," he says, but will also be available to all authorized students, faculty, and staff for non-commercial academic use in lectures, PowerPoint presentations, and for limited access educational websites. While it will be particularly useful and attractive to UConn users in the humanities and history, those who use visuals in their classes or presentations will find the database useful and easy to use, he says.
Those using ARTstor will be able to create and save image groups, zoom in on details of images, and use their own images along with those in the database. "Faculty can create lectures using the images, and incorporate the text to suit their classes," Young says. "Audio files may also be embedded, so if a professor is showing an image of a Gothic cathedral, a Gregorian chant could be welling up in the background. The sky is the limit."
Collections available through ARTstor are: The Image Gallery, a broad collection of images of world visual art and culture; the Art History Survey Collection, monuments of world art defined by a concordance of 10 standard art history survey texts; the Carnegie Arts of the United States Collection, a collection of images documenting the history of American art, architecture, visual, and material culture; the Huntington Archive of Asian Art, a photographic overview of the Asian art from 3000 B.C. to the present; the Illustrated Bartsch, a collection derived from the standard art reference publication, containing Old Master European prints from the 15th to the 19th century; the Mellon International Dunhuang Archive, high resolution digital images of wall paintings and sculpture from the Buddhist cave shrines in Dunhuang, China; and the MoMA Architecture and Design Collection, a comprehensive collection of digital images from the architecture and design department of the Museum of Modern Art in New York.
The Dunhuang Archive allows users to "work and walk through" Buddhist caves, Young says. "It's almost like a computer game. It's just amazing."
Authorized users accessing ARTstor on campus, whether in their offices, dorm rooms, or the library, will have instant access. To use ARTstor on a computer that is not on the University's local network, a proxy server must first be set up, using the instructions at http://helpdesk.uconn.edu/ trouble/proxy/proxyconfig.html.
The material in the ARTstor digital library is governed by U.S. copyright law, fair use provisions, and the Digital Millennium Copyright Act. Access to it is restricted to use within the U.S. or at facilities owned by the University in foreign countries.
For a demonstration on how to use ARTstor, contact Young at 860.486.4953 or via e-mail: Michael.S.Young@uconn.edu.