Program Links Languages To
Variety of Academic Disciplines
By Darlena Mariani
Four students sit in a group on one side of the classroom on a Monday evening, discussing German film. What makes this discussion session different? They are speaking in German.
The students are part of the Linkage Through Language (LTL) program at UConn. LTL is an optional one-credit discussion section in another language, that is closely linked to a course taught in English.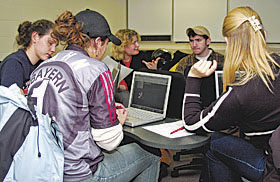 Students in the Linkage Through Language program discuss the film Das Experiment in German. From left, Kristina Giano, Mary Ann Chesery, graduate assistant Gabi Kathoefer, Dennis Manning, and Julia Gibney.
The program links languages including Spanish, French, Italian, and German to such classes as film, art history, anthropology, geography, and history. A discussion session is offered one hour a week, for example, to discuss a History 101 class, Modern Western Traditions, in French.
"LTL is not about grammar, and it's not about vocabulary," says Katharina von Hammerstein, an associate professor of modern and classical languages and director of the LTL program."It's simply a discussion on the major discipline in another language."


A Range of Fluency
The program started in 1995 with a three-year grant from the National Endowment for the Humanities. At that time, it offered French and German sessions linked to history classes.
When the grant ran out, the dean of liberal arts and sciences, Ross Mac-Kinnon, decided to institutionalize the program. Now there are more than
30 different courses in the program.
"Ideally we could link with any course on campus," von Hammerstein says. "Students in all disciplines should be able to apply language to their discipline."
Students can sign up to take an LTL course in any semester, as long as they have some foreign language background. It is typical to have a mix of fluency in LTL courses, says Gabi Kathoefer, a teaching assistant for German film. While some students have had just a few years of a language, others are almost fluent.
"Students think you have to be almost a native speaker to discuss history and art," she says, "but you don't always have to be right. Students help each other in the language."
LTL is closely related to the syllabus of the main course, says Kathoefer. The same topics are discussed, but in a different language, and with a different perspective.
LTL sections are developed by faculty in modern and classical languages, in conjunction with faculty teaching classes in other disciplines. Language faculty create a study guide for each section, and teach it for at least one semester before enlisting the help of teaching assistants to facilitate the discussion.
The courses are graded through weekly homework assignments and two essays that students write during the semester.
The program allows language professors to know more about what their colleagues are doing in their disciplines, and helps bring the disciplines together, says Eliane DalMolin, a professor of French.
An Added Dimension
Paul Goodwin, a professor of history who teaches History 101, says LTL adds a cultural component to what could otherwise pass as memorization.
"I always thought it made far more sense to tie language to a discipline," he says. "The essence of a liberal arts education is that all courses should eventually connect."
LTL adds a dimension to learning that students cannot get in the regular discipline, he adds.
Von Hammerstein says, "Students need to understand a culture other than their own, and a course that connects languages with their career goals is right on target."
Once students have taken an LTL course, they usually sign up for several others, she says. Because of this, the language department gives students certificates to put in their
portfolio after they have taken two or more LTL courses.
"The LTL course has helped me a lot," says James Stankewicz, a senior majoring in math. "An applied language certificate will be great when I am applying to Ph.D. programs."
For the spring semester alone, von Hammerstein is coordinating the program with 17 faculty members from various disciplines and 17 teaching assistants in the language department.
"It is a lot of work," she says, "but it is good for the reputation of the school and the faculty involved."
Other universities looking to build similar programs into their curriculum use UConn as an example, von Hammerstein says. They often visit the Storrs campus to receive input on how to implement such a program.
Kathoefer says Linkage Through Language offers a very different way to view learning a language. The course is not about grammar or tests, she says. Instead, students are getting together and experimenting with the language to convey their ideas.
"If you have a lot to say because you are passionate about the topic, then you want to learn the language to express yourself," Kathoefer adds. "This is the direction language-learning will go in the future."