Health Center Emergency Room
Staffed by Highly Trained Specialists
By Jane Shaskan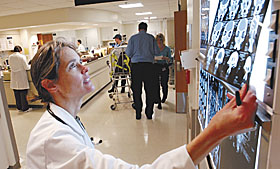 Photo by Peter Morenus
Back in the 1960's and '70's, hospital emergency care meant non-specialized nurses, interns, and on-call physicians. Now it means physicians and nurses trained and certified in emergency care, which requires special skills different from general medical practice.
"Patients coming to our emergency department can expect board-certified emergency medicine specialists and dedicated nursing and support staff to provide the most safe and accurate emergency care possible," says Dr. Robert Fuller, director of the Health Center's emergency department."We provide our community with the highest standards of emergency medical care."
That includes the latest in patient safety improvements such as state-of-the-art "smart pumps" that calculate drug doses to ensure the proper dosage, and IBEX, an electronic record keeping system that helps document patients' records to provide accurate up-to-date information to healthcare providers.
Patient volume continues to grow at Dempsey's emergency department, rising from just over 22,000 in 2003 to almost 27,000 for fiscal year 2004, with a projected volume of 29,000 visits at the end of 2004. During the past fiscal year, the department's share of patients grew at a higher rate than other hospitals in the region. About 25 percent of patients coming to the emergency department are admitted to the hospital. Most patients are treated and released.
"In response to a questionnaire, almost 90 percent of our patients say they would recommend our services, and patients were also pleased with the wait time," says Kathleen Lundquist, emergency department nursing manager. "We hope to expand staff coverage to decrease wait time and get patients to a caretaker sooner."
She says there has been a growing recognition of the importance of the department for the hospital overall.
Fuller says emergency medicine has evolved in recent years. "Twenty years ago, emergency care was a patchwork of variably trained and inconsistent physicians," he says. "Very rarely was an emergency department staffed with a physician who wanted to spend a career working there.
"Now emergency medicine is a specialty, with training in the recognition and management of acute ailments in all specialties," Fuller says. "We are the 'jacks of all trades' and the experts at stabilizing the acutely ill."
Emergency physicians must have expertise in some aspects of just about every medical specialty and be able to recognize, evaluate, treat, and stabilize patients with a variety of illnesses and injuries. They often perform life-saving procedures. An emergency physician may go from a patient with a sprained ankle to someone with a stroke, from a child with asthma to an elderly person with pneumonia.
Emergency medicine traces its origins to the conflicts in Korea and Vietnam, where physicians discovered that the procedures and techniques that worked on the battlefield could be applied in hospital emergency rooms. In 1979, the American Medical Association and the American Board of Medical Specialties formally recognized emergency medicine as the country's 23rd medical specialty.
Certification as an emergency medicine physician requires a three-year residency in emergency medicine, and passing written and oral examinations.
Dempsey Hospital's first board-certified emergency medicine physician was Dr. Marc Borenstein, who became director of the emergency department in 1990. He was also instrumental in establishing the first residency program in emergency medicine in Connecticut at the Health Center.
Emergency nursing has also been recognized as a specialty. Dempsey's emergency department nurses are members of the Emergency Nurses Association, and many are certified in this specialty.
Supporting the emergency physicians at Dempsey are physician assistants, advanced practice registered nurses, and about 50 on-call physicians in various medical specialties.