Alumnus, Now Iraqi Cabinet Minister, Visits State
By Kenneth Best
The Iraqi people must help stabilize their own country, even as there are signs of progress toward self-government, said Hajim Al-Hasani '90 Ph.D., minister of industry and minerals in Iraq.
Continuing violence in many parts of Iraq are aimed at disrupting the effort to hold elections in January, but Al-Hasani says the interim governing council is pressing forward to make the elections a reality.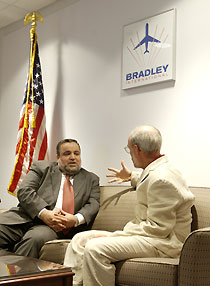 Home Coming -

Hajim al-Hasani, left, Iraq's new minister of industry and minerals, a Ph.D. graduate of UConn's Department of Agricultural and Resource Economics, meets with Professor Ron Cotterill, his thesis advisor, after speaking with the media at Bradley International Airport during a brief visit to Connecticut September 29.


Photos by Peter Morenus
"I believe everyone in Iraq wants democracy," Al-Hasani told reporters during a brief stop in Connecticut, before continuing with a series of business and government meetings in the United States. "We've had 35 years of tyranny. I don't think anybody wants to go back to the way things were."
Al-Hasani had intended to visit and spend time at UConn with his doctoral advisor, Ronald Cotterill, professor of agricultural and resource economics, and to meet with students on the Storrs campus. However a delayed flight out of Pittsburgh resulted in only a brief reunion with Cotterill at Bradley International Airport and a press conference with Connecticut media.
Calling UConn his "second home," Al-Hasani said that after serving as a deputy member of the Iraqi Governing Council and deputy chair of its finance committee, he was expecting to be named as Iraq's minister of finance. But when officials reviewed his curriculum vitae and saw his doctorate in industrial organization from UConn, he was given responsibility for his nation's business interests.
"I should like to thank my advisor for that," he said, nodding to Cotterill. The two exchanged gifts, with Al-Hasani presenting his former professor with a hand-made tapestry made in an Iraqi factory.
Al-Hasani noted that the Iraqi economy is being rebuilt. He said that the war put nearly 1 million people out of work — among them police, security forces, and the media. But now that the economy is recovering, unemployment has declined from 60 percent to 28 percent. He said factories are operating again, and he hopes to accelerate this progress.
As minister of industry and minerals, Al-Hasani has oversight of about 70 companies with 280 factories. He said industries will be privatized after the newly elected government is in place.
Al-Hasani said many of the security issues which led to the deaths of U.S. military personnel and Iraqi citizens following the initial military actions are the result what he described as "major mistakes." He said these included the dissolution
of the Iraqi army and local security forces, and "bad implementation" of the policy which barred members of the Ba'th party from holding office after the U.S. invasion of Iraq.
He said he was against the war.
"I didn't believe that we would find weapons of mass destruction," he said. "It was good that we got rid of the Saddam Hussein regime — it was dangerous not just to Iraq but to the whole world. But I thought we as Iraqis could do it ourselves. I think the Americans got bad advice from some people — Iraqis."
Al-Hasani stressed the need to focus on the future. "I think we should not look back," he said. "We should look forward to what we're going to do with Iraq. Democracy is important in Iraq. That's what we should care about."
He said the Arab media have not helped the effort to stabilize the situation in Iraq — calling that another "mistake" that has contributed to insecurity. But he also criticized American media for focusing on incidents of terrorism and ignoring stories about progress.
Addressing the issue of terrorism, Al-Hasani said "foreign interference" is the cause of the problem: "I think those who are trying to stop us, they are coming from outside Iraq. The open borders in Iraq are the biggest problem today."
He said the upcoming elections in Iraq in January should take place throughout his country, without avoiding sectors that continue to have security problems, as some U.S. officials in Iraq have indicated might occur.
"My personal opinion is that it is not acceptable to hold elections in only some parts of Iraq," Al-Hasani said. "People will look at the legitimacy of that government in doubt. I don't think anybody wants something like this. If we are to delay it, God forbid, it's better to delay it than hold it in some places and not in all places."