University Libraries Thriving
After Decade Of Change

A decade ago, a student writing a paper could often be found sifting through rows of books in the library stacks. Today, that student would most likely be sitting in front of a computer, possibly sipping cappuccino in a dorm room.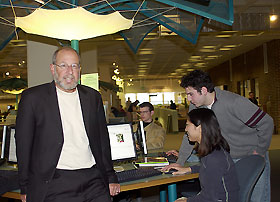 Photo by Melissa Arbo
"It's like night and day," says Brinley Franklin, director of University Libraries. "People don't have to come to the library any more to take advantage of a lot of the services we offer."
"Ten years ago there was no Web, and information was contained in library buildings," Franklin says. "Library staff waited for students and faculty to come to the library. Today, our job is not only to store and make available the 2.5 million print volumes we own, but also to ensure library users access to as much of the digital information universe as possible.
"There couldn't be a more interesting and exciting time to be a librarian," Franklin says.
The stereotypes of librarians as ladies wearing sensible shoes saying 'shhhhhh' are slipping away. "Librarians are technologically savvy people, who teach classes and work with faculty," Franklin says.
"One of their challenges is to keep abreast of the changing electronic resources," he says. "Information is constantly being repackaged, and the way it's searchable is becoming more sophisticated all the time. It's the librarian's job to share that information with library patrons."
And that's exactly what UConn librarians are doing. Franklin says last year, 10,700 people participated in library classes on how to use electronic resources. Librarians also visit faculty in their offices to help them use electronic resources for their research needs, or to show them how these resources can enhance their teaching.
"Faculty feel comfortable calling on library staff to work with them," Franklin says.
For the past four years, there has been a librarian dedicated to working with undergraduates, and another is about to be hired. "We think it is both our and the faculty's responsibility to teach undergraduate students how to be educated information users," says Franklin, noting that the new general education requirements include an information literacy component. "We want our students to be critical thinkers."
This goal is being met through partnerships that UConn has made with other academic libraries, such as the Boston Library Consortium (BLC).
Beginning last month, for example, the university community has been able to gain access to the online catalogs of 13 other New England research libraries through BLC's 'Virtual Catalog.' Users may initiate requests for books directly, and pick them up and return them to the UConn libraries. It makes for faster and less expensive delivery than traditional interlibrary loans, Franklin says.
A round-the-clock online reference service, also provided through BLC, allows patrons to chat with librarians at their convenience from any Internet-connected computer.
For several years, the library had a building that belied the quality of its services. In 1989, it was found that the Homer Babbidge Library had structural problems, including the potential for bricks to fall way from the building. Floors were gutted and closed, while extensive repairs were made.
Franklin says that when the library was "wrapped in plastic and was the poster child of the state," the library staff and services still got very high ratings. "During that period," he says, "the staff worked hard to make sure that the library service was excellent, and it was gratifying that patrons recognized it. Now we have a building that goes along with the quality of services that we offer."
The libraries welcome feedback from patrons. "We're committed to supporting the academic, research, and curriculum needs of the University's students and faculty," Franklin says. "We get a lot of feedback on what's working and what's not working. It's gratifying that users' overall satisfaction has been increasing."
Even with the increase in online library usage, the library building is in no threat of becoming obsolete, Franklin says. "Just as many people are coming to the library as were 10 years ago," he says. "In fact, we've set records in the last two years for the number of people who come to the library the night before final exams start, and gate counts document significant increases in library use in general over the past several years."
Despite the plethora of digital information, the University Libraries are still ordering the same number of books as they did 10 years ago - about 25,000, Franklin says. Two and one half million volumes fill the University Libraries, not counting the Law and Health Center Libraries. Library users may tap into some 25,000 electronic journals and a 'vast array of research databases,' as well as the library's own digital collections. Franklin notes that there are 1.2 million searches a year on the library's online catalog, which was begun 10 years ago.
Franklin joined the library staff in 1990 as associate director of university libraries, and became director in 1999. Lately, he has been focusing his time on cultivating donors on behalf of the library, and on partnerships such as BLC and Nelinet, a cooperative of more than 600 academic, public, and special libraries in the six New England states. "I have to be out there regionally and nationally, because the information environment is increasingly in the hands of fewer and fewer players," he says.
He is on the Board of Directors of the Management Council of the BLC and on the Board of Directors and chair-elect of Nelinet. He is also the current chair of the Association of Research Libraries (ARL) Statistics and Measurement Section, and represents ARL on the International Federation of Library Associations' Statistics and Evaluation Section.