Twin National Championships Are
A First In Division I Basketball

UConn: It's Amazing.
That public service announcement, introduced earlier this year with Emeka Okafor as its centerpiece, has never been truer than it is today.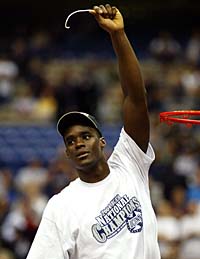 Photo by Steven Slade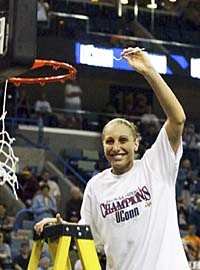 Photo by Bob Stowell
Twin NCAA national championships in men's and women's basketball - a first for NCAA Division I basketball - have people and media outlets of every stripe shaking their heads and muttering the 'A' word.
At the same time, many of those same people are looking up and taking notice of UConn's academic stature: The University has been the Number 1 ranked public university in New England for five consecutive years. The campus boasts more than three-dozen new academic and residential buildings. Undergraduate applications are pouring in - nearly 20,000 of them, the most ever - with valedictorians and salutatorians lining up to enroll. And the capital campaign will exceed its goal when it ends this June.
"What these student-athletes have accomplished is nothing short of amazing," University President Philip Austin told a reporter Wednesday afternoon, less than two hours after returning to Gulley Hall from the airport and New Orleans, where the women's team polished off Tennessee, 70-61, to seal the historic pair of victories. "And we can leverage the attention to discuss what a tremendous academic experience we offer students who come here."
Wednesday, Austin was doing his level best to keep up with media asking about the University's academic successes, conducting interviews with television reporters from New York, Boston, and Connecticut, before racing to the Jorgensen Center for the Performing Arts to deliver the keynote address to more than 1,500 students at Scholars Day. The event celebrated students who achieved 3.5 or 4.0 grade point averages in consecutive semesters in the 2003 calendar year. The list included nearly two-dozen student-athletes. The next day, Austin presided over a reception celebrating some of UConn's best faculty, the 2004 Board of Trustees Distinguished Professors.
On Thursday, too, he was quoted extensively in an article in The New York Times, and interviewed by a reporter from Bloomberg News Service. And on Friday, he was interviewed for features on several Sunday morning talk shows. A reporter for National Public Radio will visit campus this week. More interviews are planned, and in each one Austin trumpets the transformation of the University's academic programs and infrastructure, along with its athletic successes.
The opportunity for the interviews was created by the amazing success of the basketball teams. Although both teams were picked #1 in the Nov. 24, 2003 college basketball issue of Sports Illustrated, with Okafor and women's star Diana Taurasi on the cover, few thought it would actually happen, especially as the long season wore on and each team struggled temporarily with pressure and injuries.
In the end, however, the past proved to be just so much prologue. The women's team won the championship for the third consecutive year, its fourth title in five years. The men's victory, an 82-73 swamping (they led at times by as many as 25 points) of Georgia Tech, was their second national championship in the past six years.
"We made history last night," Athletic Director Jeffrey Hathaway said during a celebration in Gampel Pavilion for the women's team. "It's the first time the same school has won the men's and women's basketball championships in the same year. When we start the 2004 season, there will be seven national championship banners hanging in here."
The success didn't surprise Hathaway, who several weeks earlier told a reporter "excellence is our benchmark at UConn, academically and athletically."
Hathaway, Austin, and sports media nationwide were buoyant with praise for the team's coaches, Jim Calhoun and Geno Auriemma, each of whom has established a tradition of excellence in their roles as men's and women's coach, respectively. Both Calhoun, who has been at UConn for 18 years, and Auriemma, who has led the women's team from obscurity to the top program in the nation since he arrived in Storrs 17 years ago, aretough on their players on the court and in the classroom.
During receptions celebrating each team's success last week, the two coaches received the loudest applause. One of the more touching moments occurred Tuesday, when more than 6,000 fans in Gampel Pavilion began chanting 'Hall of Fame,' as Calhoun attempted to speak to the crowd. The chant was in reaction to a secret ballot cast last Monday in which Calhoun reportedly fell just one vote short of being voted into the Basketball Hall of Fame.
The success of the basketball teams will be celebrated again with a parade and reception in Hartford on April 18. The parade will begin at 1:30 p.m. in front of the state Capitol.
Three weeks later, the success of thousands of other UConn students will be celebrated during commencement exercises May 9 for undergraduat es and May 8 for graduate students.
The venue for those academic celebrations? The Harry A. Gampel Pavilion, of course, Home of the Huskies.