Trustees Name This Year's
Distinguished Professors
Five faculty members cited for exceptional distinction in scholarship, teaching, and service have been selected as this year's Board of Trustees Distinguished Professors, the University's highest honor for faculty.
The five are: William Fitzgerald, professor of marine sciences; Bahram Javidi, professor of electrical and computer engineering; James Marsden, professor of operations and information management; Dr. Larry Raisz, professor of medicine; and Howard Tennen, professor of community medicine.
Each has national and international standing in his respective field, has published authoritative works, holds multiple professional honors, and has served as an exceptional teacher and mentor to students.
They will be honored during a reception on April 8, at 3 p.m. in the Alumni Center. Members of the University community are welcome to attend.
"This is an exceptional group of scholars," said Provost John D. Petersen. "They have contributed to the University in many ways, and have brought national and international recognition to the institution. The designation as a Board of Trustees Distinguishe d Professor is a way for UConn to recognize and appreciate their achievements."
Recipients are selected through a process of nomination and review by faculty colleagues.
The first honorees were named in 2000. Honorees may use the title for life. No more than five percent of the active faculty may hold the title at any one time.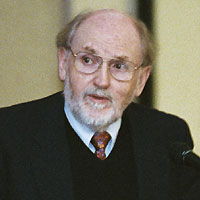 William Fitzgerald is a professor of marine sciences and founder of the Mercury Laboratory at the Avery Point campus. He joined the University in 1970.
His interest in mercury poisoning began during graduate studies at MIT and the Woods Hole Oceanographic Institution in the mid-1960's. Because of his lifelong work in the field, he has sometimes been dubbed "the father of mercury research." Fitzgerald's research has centered on the environmental impact of mercury on both a global and local scale. He has a particular interest in Long Island Sound and its use as a laboratory for studies of the marine cycling of mercury. His current work focuses on key aspects of the mercury cycle, and the impact of metal emissions associated with human activity on the behavior and fate of mercury in the environment.
Fitzgerald has been recognized nationally and internationally for his work. In September 2003, he received the Patterson Award and Medal from the Geochemical Society. The medal, the organization's highest award, recognizes outstanding contributions to environmental geochemistry.
Fitzgerald is the author or co-author of more than 70 research papers in prestigious, peer-reviewed publications, and has received funding from the National Science Foundation, the U.S. Environmental Protection Agency, and the Connecticut Department of Environmental Protection.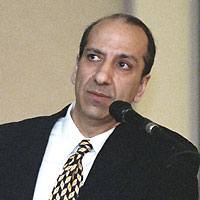 Bahram Javidi is a professor of electrical and computer engineering, who specializes in optics for information systems. His research interests include: optics for information security; three-dimensional optical imaging; 3-D visualization and display; and 3-D image processing and recognition.
Javidi is a fellow of three international societies: the Institute of Electrical and Electronic Engineers (IEEE); the Optical Society of America; and the International Society for Optical Engineers (SPIE). In 1990, the National Science Foundation named him a Presidential Young Investigator. In 2003 and 2004, he received the IEEE Lasers and Electro-optics Society Distinguished Lecturer Award.
Javidi also has received the University of Connecticut Alumni Association Excellence in Research Award, the School of Engineering Distinguished Professor Award, the Chancellor's Research Excellence Award, and the first Electrical and Computer Engineering Department Outstanding Research Award.
Javidi's publications include six books, more than 160 technical articles in major journals, and more than 200 conference papers, including about 60 invited papers. His papers have been cited more than 2,100 times according to the WEB of Science. His papers have appeared in Physics Today and Nature, and his research has been cited in IEEE Spectrum, Science, National Science Foundation, and New Scientist.
In 2002, he was an invited speaker at Frontiers of Engineering, a forum sponsored by the National Academy of Engineering and the Alexander von Humboldt Foundation.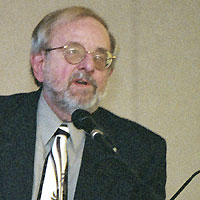 James Marsden joined the UConn faculty in 1993. He currently holds the Shenkman Chair in E-business and is department head of Operations and Information Management in the School of Business. He is also executive director of the Connecticut Information Technology Institute (CITI), executive director of the Treibick Electronic Commerce Initiative (TECI), and co-founder and co-developer of the "edgelab" at the Stamford campus, an e-business think tank that is a collaborative venture with GE Capital.
Marsden, whose areas of specialization include innovations in electronic markets, legal issues in electronic business, and quantitative methods, is currently conducting research on relational databases in electronic business, hypermedia-enabled expert systems, and piracy in digital goods markets. During the academic year 2002-2003 alone, he had six research papers published in top academic journals, with four additional manuscripts under review.
At UConn, Marsden has taught students at both undergraduate and graduate levels. He consistently challenges himself and his colleagues to find innovative ways to teach.
Marsden, who holds both a doctorate in economics from Purdue University and a J.D. from the University of Kentucky Law School, has been recognized nationally and internationally for his work. He has received research funding from sources including the National Science Foundation, the Department of Defense, the Environmental Protection Agency, and NATO.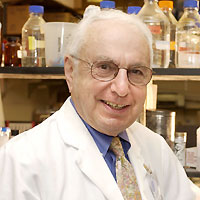 Dr. Lawrence Raisz joined the Health Center faculty in 1974 as the first head of the Division of Endocrinology and Metabolism.
He began his career in research and teaching in 1948, focusing on renal physiology at New York University's Bellevue Medical Center. Before coming to UConn, he held positions at the SUNY College of Medicine at Syracuse; conducted research at Strangeways Research Laboratory in Cambridge, England; and was chief of the Division of Clinical Pharmacology at the University of Rochester. He also was a Boroughs Wellcome Scholar in Clinical Pharmacology.
During a sabbatical leave at the National Institute of Dental Research in the early 1970's, Raisz developed new methods for studying bone formation, and discovered the first cytokine that stimulated bone resorption.
At the Health Center, Raisz has built the Division of Endocrinology and Metabolism from a three-person faculty to 10, and has established a large interdisciplinary research program in bone biology. His research on factors influencing bone metabolism has been funded by NIH for 38 years.
A General Clinical Research Center that Raisz developed at the Health Center has been funded by the NIH since 1993.
During his 30 years at UConn, Raisz has been a visiting professor at many medical schools and has presented up to eight grand rounds annually at community hospitals in Connecticut. He was recently appointed scientific editor of the Surgeon General's Report on Osteoporosis and Bone Health, and has been a consultant to the NIH and to many pharmaceutical companies.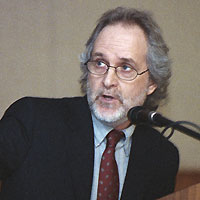 Howard Tennen joined the UConn Health Center in 1978 and is currently a professor in the Department of Community Medicine and Psychiatry and an affiliated faculty member in the Department of Psychology. He is an innovative teacher and scholar at both the Health Center and Storrs campus.
Tennen's research focuses on how people adapt to major health crises and everyday stressful situations. His longitudinal study design has attracted the interest of many investigators and practitioners. He has a strong commitment to methodological rigor and to the application of basic science to practical health-relat ed problems.
In addition to a demanding research agenda, Tennen demonstrates a passion for teaching and has been recognized with many teaching awards from the Schools of Medicine and Dentistry.
Tennen has been active in national associations and organizations throughout his career and has served in various capacities for the American Psychological Association.
Tennen has received many awards, including the Clifford M. Clarke Science Award from the National Arthritis Foundation, and the American Psychological Association, Division of Psychotherapy Award.