Speaker Recounts Rags-To-Riches Tale

Born the child of slaves in 1867, Madam C.J. Walker was orphaned at seven, married at 14, a mother at 17, and widowed at 20. She had little formal education. Yet by the time she died at age 51, she was a millionaire who had built a beauty empire, devoting her life to philanthropy and social activism.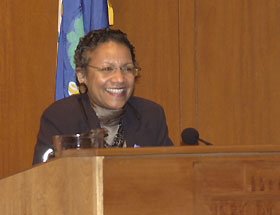 Photo by Dollie Harvey
Her great-great-granddaughter, A'Lelia Bundles, retold Walker's story March 1 at the Thomas J. Dodd Research Center Konover Auditorium during a talk that marked the beginning of Women's "Herstory" Month at UConn. Bundles is the author of On Her Own Ground: The Life and Times of Madam C.J. Walker.
"It's really great to speak about all the possibilities that you have," Bundles told the audience of mainly female students. "When I graduated from college in 1974, the doors were just starting to open up for women. I'm fortunate to have been able to realize a lot of my dreams."
She asked how many had heard of Madam C.J. Walker. A few hands shot up.
"A lot of people don't know who she is," said Bundles. "And in some ways that's because our history books have not taught us about all of the people in America who have made contributions, especially women and people of color."
Bundles said part of the reason she wrote On Her Own Ground was that she wanted to write history the way she wished it had been written for her.
"I wanted to talk about Madam C.J. Walker, who to me is one of the great American rags-to-riches stories, as interesting as Andrew Carnegie or Henry Ford or any of the great industrialists who came from an early life of poverty," she said.
Walker was earning $1.50 a day as a washerwoman, struggling to educate her daughter, when something happened that would change her life forever, Bundles said. "Her hair began to fall out. She had horrible dandruff and scalp disease."
One hundred years ago, "most women washed their hair only once a month, and sometimes not at all during the winter," Bundles said. "Most people didn't have indoor plumbing, electricity, or central heat, and basic hygiene was problematic."
Walker developed a hair care hygiene system for cleansing hair and healing scalp disease, Bundles said, although she did not invent the straightening comb, as many believe.
"The real secret to the success of the Walker system is that she developed a shampoo and encouraged women to wash their hair more often," Bundles said. "Once their scalps were clean, and cleaned more frequently, they applied an ointment that contained sulfa."
Word spread quickly about the product.
"As her hair grew back, other women wanted to know what she was using," Bundles said, noting that women such as Elizabeth Arden and Helena Rubenstein were developing hair care companies at the same time.
"One hundred years ago, when there was no national or international cosmetics industry, there were a few women who were developing these remedies at home, and marketing them," Bundles said. "They carved out a niche that businessmen had ignored."
Walker's business expanded, as she sold products door-to-door and began training other women to sell as well, Bundles said. She was able to send her daughter to college.
Walker developed marketing and distribution strategies as innovative as those of any entrepreneurs of her era, Bundles said. She took advantage of advertising, using before-and-after photographs as well as testimonials.
In creating her system and training her agents, Walker helped African-American women get ahead, Bundles said. "She opened up economic opportunity to large numbers of women, and they were very grateful for that."
In addition to developing her business, Walker had a sense of community. As she became more successful, she became more involved in philanthropic activities and social activism.
In 1917, the year before Mary Kay was born, Madam Walker was already having conventions for her sales agents: "She was giving prizes, just like Mary Kay, to the women who sold the most products." But, Bundles added, "Madam Walker was also giving prizes to the women who had contributed the most to charity and who had a political consciousness.
"She told the women at a convention, 'I want you, as Walker agents, to understand that your first duty is to humanity. I want others to see us and realize that we care not just about ourselves, but about others."
Bundles said she began learning the story of her great-great-grandmothe r even before she could read.
"One of my earliest memories is being in my grandfather's apartment in Indianapolis. I remember playing there and finding ostrich feather fans, mother of pearl opera glasses, shawls, and gloves, and things that had belonged to my great-great-grandmother."
Bundles, who grew up in Indianapolis, earned a bachelor's degree from Harvard and an M.S.J. from the Columbia Graduate School of Journalism.
Upon completing her master's degree in 1976, she began working as a producer at NBC News. In 1989, she moved to ABC News, where she became the Washington deputy bureau chief and a producer of ABC World News Tonight with Peter Jennings. She now is director of talent development at ABC in Washington and New York.
On Her Own Ground: The Life and Times of Madam C.J. Walker received a 2001 New York Times Notable Book mention and the 2001 Leticia Woods Brown Book Prize from the Association of Black Women Historians. Articles written by Bundles have appeared in a wide variety of magazines and journals, including the New York Times Book Review, Fortune Small Business, and O, The Oprah Magazine.