Birds Of A Feather
Ornithological Exhibits, Events, Slated For Homer Babbidge Library, Dodd Center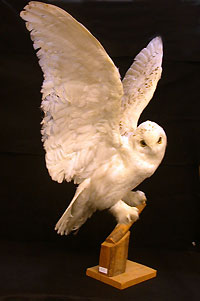 Photo supplied by Babbidge Library
This spring, Homer Babbidge Library will celebrate the annual return of feathered species by showcasing stunning examples of avian aesthetics in bird books from its Special Collections & Archives; mounted specimens from the State Museum of Natural History; and bird sculptures by two artists from eastern Connecticut.
In connection with the exhibits, Margaret Rubega, an assistant professor of ecology and evolutionary biology and the State Ornithologist, will lead a bird walk on April 3. And the Teale Lecture Series will feature a presentation on penguins and politics on April 8.
The exhibits, scheduled at Homer Babbidge Library and the Thomas J. Dodd Research Center from March 15 through May 23, are:
Fine Bird Books from Archives & Special Collections. The period from 1700 to 1900 is generally considered the golden age of the natural history book. During this time, bird books were lavishly produced and voraciously collected for their beautiful illustrations of birds and their habitats.


Edwin Way Teale: Connecticut Naturalist. Although a native of Joliet, Ill., Edwin Way Teale was considered Connecticut's premier naturalist by the time he died in 1980. Teale was a prodigious writer who published 32 books, including Wandering Through Winter, for which he won the Pulitzer Prize. Teale kept detailed diaries and journals, which are housed in the Thomas J. Dodd Archives and Special Collections, and took numerous photographs from his early boyhood until his death.


The Allen Collection of Mounted Birds from the Connecticut State Museum of Natural History. F. Eugene Allen, an accountant by profession, was also a self-taught taxidermist from Winchester, N.H. Between 1935 and 1946, he collected and mounted specimens, most brought to him by hunters and some that he shot himself. Allen kept meticulous records, including data on the birds, and built his own glass and wood display cases. His handwritten field cards will be displayed with some of the specimens.


"Imagined Birds: Mythic Species" by John Revill. Revill, who holds undergraduate degrees in art and wildlife management from California's Humboldt State University and an MFA from the University of Texas at Austin, invents new species of birds that he places in complex and ornate surroundings. The recipient of awards from the Connecticut Commission on the Arts and the Connecticut Academy of Fine Arts, Revill lives and works in Eastford.


Bird Carvings by Bill Card
Card, who spent his youth fishing in the streams and hunting in the fields of northeastern Connecticut, began carving wildlife about 12 years ago. Although his work has won many prizes, he carves primarily for the love of creating sculptures of wildlife in naturalistic settings and for the joy that his work brings to people. He divides his time between South Windham and Maine.

An opening reception, open to the public, will take place April 3 at 11 a.m. in the Stevens Gallery of the Homer Babbidge Library. Refreshments will be served.


Bird Walk
A bird walk on the Storrs campus, led by Rubega, will take place on April 3. Participants will look for birds and learn about their biology and behavior. The walk will conclude with a tour of the Department of Ecology and Evolutionary Biology's avian research collection. This collection, begun with a donation of study skins - birds that are stuffed and placed in a position appropriate for anatomical study - dating from 1875 to 1925, emphasizes the fauna of Connecticut and the Northeast, and holds more Connecticut specimens than any other in the world. Rubega specializes in the evolution of feeding systems in birds, their feeding ecology, and the importance of both for avian conservation. For reservations or directions, call 860.486.2219.


Teale Lecture As part of the Edwin Way Teale Environmental Lecture Series, P. Dee Boersma, a professor of zoology at the University of Washington, will present a public lecture on "Penguins, People, Pollution, and Politics: When Science is Not Enough," on Thursday, April 8, at 7:30 p.m., in the Dodd Center.