Singha Named Academic Vice Provost

Suman Singha, associate dean for academic programs in the College of Agriculture and Natural Resources since 1995, has been named vice provost for academic programs, effective March 19.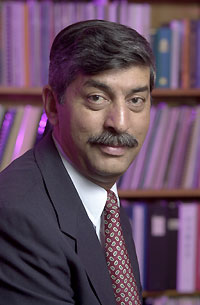 Photo by Peter Morenus
Singha, who was appointed after an internal search chaired by Robert McCarthy, dean of pharmacy, will report to John D. Petersen, provost and executive vice president for academic affairs. Singha will also work closely with Fred Maryanski, senior vice provost for academic affairs, and Janet Greger, vice provost for research and graduate education.
"Suman brings very strong skills in the areas of research, teaching, and outreach activities in addition to 14 years at the University in both faculty and administrative positions," said Provost John D. Petersen in announcing the appointment.
"Throughout his career at UConn, Suman has maintained a consistently high level of commitment to the university, the administration, the faculty and our students," Petersen added. "I look forward to working with him in raising the visibility of the university academically within the national higher education environment."
His primary charge in the five-year post will be to lead the implementation of the Academic Plan approved by the Board of Trustees last year. His duties will also include oversight of academic programmatic issues, coordinating departmental program reviews, serving as the primary contact for school and college associate deans, overseeing department head developmental activities, and assisting in the development of the University's faculty mentoring program.
Singha said he welcomes the appointment as an opportunity "to make a meaningful difference in the institution."
In a written vision statement that was part of the search process, Singha said he believes in shared governance.
"Effective leaders are those who can work with the faculty, staff, and other stakeholders to achieve the mission and goals of the institution," he wrote. "I maintain that the faculty, staff, and students are the greatest resource of any academic enterprise and the primary function of the administration is to provide the conditions and assist the institution in accomplishing its goals."
Singha added that he will encourage greater collaboration among the schools and colleges. "There is a tendency in academia to work in silos," he said. "We need to approach issues in a more interdisciplinary manner. The problems are very complicated."
Singha was interim vice provost for undergraduate education and instruction from 2001 to 2002, and held an American Council on Education (ACE) Fellowship at the University of Rhode Island from 2000 to 2001.
A specialist in fruit tree physiology and plant tissue culture, Singha joined UConn in 1990 as head of the Department of Plant Science. He was previously a professor of horticulture at West Virginia University.
Singha earned his bachelor's and master's degrees from Punjab Agricultural University in India, and his Ph.D. at Cornell.
He has received several awards for excellence in teaching, and in 1999 was awarded the First Year Student Advocate Award at UConn. He has served on many University-wide committees, including the President's Athletic Advisory Committee, the Academic Planning Task Force, the Code of Student Conduct Review Committee, the Faculty-Staff Recruitment Committee, and the International Undergraduat e Student Recruitment Committee, as well as on the University Senate and many of its committees.