Reporter Tells Story Of Notorious RI Mayor

In the late 1990's, Providence Journal writer Mike Stanton had a chance to move to a larger paper, in a larger city. A chance to move up in the world of journalism. But Stanton, who covered city hall for Rhode Island's largest daily newspaper, turned it down. He knew that Providence was "a theme park for reporters."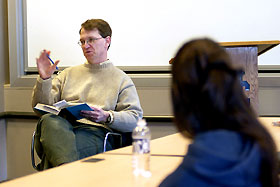 Photo by Melissa Arbo
For Stanton, the city and its former mayor - the flamboyant and now jailed Buddy Cianci - became his personal Disneyworld. In August 2003, his book chronicling the stranger-than-life times of Cianci, Providence's longest-serving mayor, was released by Random House. The book, The Prince of Providence, The True Story of Buddy Cianci, America's Most Notorious Mayor, Some Wiseguys, and the Feds, has been hailed by critics ever since.
Last Wednesday, Stanton spoke to a couple of journalism classes and at a book signing at the UConn Co-op. His talks, like the book, were surreal.
"A lot of what happened is chilling, just incredible. You couldn't make this stuff up," Stanton said, reeling off one outrageous story after another. In fact, he continued, he collected so much information that one of the hardest parts of putting the book together was deciding what to leave out.
The Cianci story began in earnest when he was first elected in 1974, becoming the first Republican mayor in Providence since the Great Depression. In a city run for decades by the Mob - headed by New England Boss Raymond L.S. Patriarca - and a tightly-knit Democratic machine, Cianci quickly learned that to survive he would have to make deals. That meant patronage positions throughout the city's administration, no-show jobs for mobsters, and widespread favors. It also meant using muscle - political and physical - when necessary.
"He knew he had to cut deals. He used his charisma, he gave out jobs, he fixed potholes. Or, he could crush people," Stanton said. "He was really a tragic figure - he did great things (for the city), but he was dragged into this cesspool" that would eventually be his undoing.
Cianci's first downfall was personal. Separated from his wife, he heard rumors that she was having an affair. One night in the early 1980's, Cianci had her alleged lover brought to his home on Power Street where, drunk and, Stanton said, probably high on drugs, he beat and tortured the man for three hours, extinguishing a cigarette in his eye, punching and kicking him and, at one point, swinging a fireplace log at him. He demanded $500,000. And he told the man he would be killed if he talked.
But he did talk, and in 1984 Cianci pleaded guilty to a felony assault charge and was removed from office. By then, 22 political insiders had been convicted of corruption.
"We all thought that was the end of it. But it was just Buddy I," Stanton said, using a term that was bandied about in the newsroom.
Amazingly, Cianci came back into the public eye and, in 1990, exploited a three-way race for mayor and won again.
"This time, he presided over the Renaissance of the city. His power was unprecedented. But in the midst of this, the FBI also came back," Stanton said.
By 2000, after another decade in office, Cianci and his cohorts had turned kickbacks, patronage, and bribery into an art form. In the book, Stanton chronicles countless money drops, bags of cash thrown into the trunk of Cianci's car, brought to him in city hall, or delivered to various "bagmen" in parking lots and garages. Stanton estimates they accrued well over $1 million.
After a federal investigation into corruption by the former mayor and his cronies, Cianci was ultimately convicted on only one of a dozen counts of racketeering. Stanton said many of Cianci's cronies took the fall for him, and the jury decided they did not believe, beyond a reasonable doubt, that he was guilty of racketeering. He was convicted only of being the "mastermind, " behind all the scams, a conviction Cianci has appealed. A ruling on the appeal is expected this spring.
Stanton spent two years researching and writing the book, not counting the years he personally covered the Cianci regime for the Providence Journal. He reviewed thousands of pages of transcripts from trials, federal wiretaps, and police reports. He interviewed hundreds of people who had been close to Cianci during the years and, in the course of his daily coverage and research for the book - which Cianci tried to prevent being published - spent hundreds of hours with Cianci.
Stanton said at times his work put him at risk. A week before the second trial, Cianci received word that the book would be turned into a movie. "He went off the deep end again," said Stanton. Besieged by reporters asking him about the movie during a subsequent press conference, Cianci grabbed Stanton in a headlock, pulled him to the lectern, and began asking Stanton the same questions, "in a very menacing way." After several minutes, Cianci released Stanton and, pushing him away, told him - still in front of the television cameras - to "go play in the traffic."
"There were times when I was nervous, paranoid," Stanton said. Police were occasionally following him, the mayor's associates were cracking bad jokes about who started his car in the morning, and Cianci himself asked Stanton how he liked living in Edgewood - even though Stanton had never told anyone where he lived.
So when Stanton was attacked on a downtown Providence Street, his jaw broken during the assault, the fear was that Cianci had something to do with it.
Cianci, however, denied it when he saw Stanton some weeks later.
'"I know a lot of people think I had you whacked, so I told the cops to work extra hard on this one,"' Stanton said the always colorful Cianci told him, during a break in the former mayor's trial for extortion and assault.
"It wasn't Buddy," Stanton told a journalism class Feb. 25. "It turned out it was just a college kid having a bad day."
He thinks.
Stanton's book is available at the Co-op.