Poetry Travels: Creative Writing Project
Spreads To Buses In Stamford, Windham

"Poetic Journeys," the brainchild of English doctoral candidate Jennifer Spinner that links together art and poetry for the benefit of everyday bus riders on the Storrs campus, is expanding to buses on the Stamford campus and in the Windham Regional Transit District (WRTD).
For Spinner, spring of 2004 will be her last poetic journey at UConn. She graduates in May.
But the project she created has caught on to such an extent that not only is it spreading beyond Storrs, but also some of the poetic journey billboards have disappeared from various locations and buses, presumably ending up as decoration on the walls of students' rooms.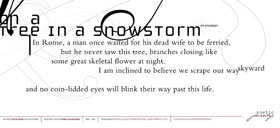 Poetic Journeys began in fall 2000. Spinner got the idea from the MTA New York City Transit's Poetry in Motion series, and began soliciting poems from professors, staff, and students throughout the University.
"I wanted to give the campus community a poetic respite from their busy days, an opportunity to embark on a different kind of journey," Spinner says.
She also wanted to give people who don't generally consider themselves poets the chance to express themselves poetically and explore the genre.
So, in addition to student and faculty poets, Poetic Journey authors include David Markowitz, a physics professor; Bruce Cohen, director of the Counseling Program for Intercollegiate Athletes ; and Clare Nelson, the elementary school daughter of a University carpenter.
"The goal of our program is to feature poems by the entire campus community," Spinner says. "It's a University poetry project."
Spinner handed over the selected poems to Edvin Yegir, an assistant professor of fine arts who runs UConn's graphic and virtual design studios. Graphic design students including Anzelina Okarmus, John Paul Chirdon, and Apirat Infahsaeng created artwork to complement the poems.
The results, 12 inch by 28 inch posters, were then placed on buses in the campus shuttle bus system. Originally, they were also placed in elevators, but those posters mysteriously disappeared - something that Spinner took as a compliment. And of course, the occasional poster was marred by graffiti.
But, for the most part, Spinner says, people appreciated the posters so much that their reach has been extended.
Pamela Brown, an English professor at the Stamford campus, created a similar program there last year. Her campus-wide collaborations are featured on the public bus system in Stamford.
And last week, Poetic Journeys started accompanying riders on buses in the WRTD. The WRTD, which usually sells the space for advertising, is allowing Poetic Journeys to use it free of charge.
Spinner will be leaving the University in May, and she's looking for someone to take over. In case she doesn't find someone before she graduates, she is now soliciting poems and putting together bus posters for the rest of 2004.
Past and present posters can be viewed at http://www.longriver.uconn.edu/poeticjourneys/html/home.html.
Spinner can be reached at: jennyspinner@mac.com.
---