New Program Offers Treatment
For Pulmonary Arterial Hypertension

Pulmonary arterial hypertension, a life-threatening medical disorder that is difficult to diagnose and rarely recognized in routine medical examinations, is the focus of a new pulmonary hypertension program at the Health Center. Since it opened last year, the program has had a steady increase in patients and physician referrals, according to the program's director, Dr. Raymond Foley.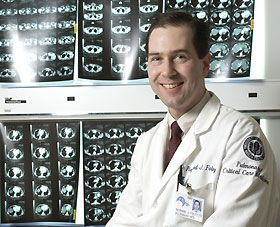 Photo by Peter Morenus
"We are the only site in Connecticut offering comprehensive medical care for pulmonary arterial hypertension, including diagnosis and treatment, and more and more people are learning about our services," he says.
Anyone can develop the illness - from very young children to elderly people, of any ethnic origin - and it often occurs along with other disorders, such as scleroderma, cirrhosis, pulmonary embolism, HIV, and congenital heart disease.
"Blood vessels have to be flexible," says Foley, who is also an assistant professor in the department of pulmonary and critical care medicine who specializes in pulmonary arterial hypertension. "But for those with the disorder, the vessels have stiffened and are less flexible, making it more difficult to pump additional blood through the lungs.
"In a healthy individual, the body adapts to an increased need for oxygen by increasing the heart rate and therefore the amount of blood flowing through the lungs," Foley says. "Patients with pulmonary arterial hypertension cannot adapt to the need for more oxygen, and a simple exercise, such as walking, becomes a challenge."
The most common symptoms of the disease include a breathless feeling, dizziness, fainting, chest pain, palpitations, and fatigue that can happen during rest, or more commonly, while simply moving about.
"Pulmonary arterial hypertension is difficult to diagnose because the symptoms could be due to a variety of other conditions," says Foley. "It is rarely picked up in a routine medical examination, delaying diagnosis and, unfortunately, treatment as well."
Its cause remains a mystery. "There is no cure," says Foley, "but there is treatment that can improve symptoms, quality of life, and survival."
Treatment involves general measures and specific interventions, depending on the patient's clinical status at the time of diagnosis, and follow-up visits, says Foley.
"Patients with mild to moderate disease are often started on a recently FDA-approved oral supplemental oxygen and medication called bosentan," he says. "We also advise them to avoid over-the-count er medications that may inadvertently worsen their condition."
For patients with severe disease, the gold standard of therapy has been epoprostenol, a medication that is delivered on a continuous basis through a catheter in a central vein. Trepostinil, another drug for severe cases, is delivered under the skin. Lung transplantatio n is generally reserved for those with severe cases, who have not significantly benefited from maximum medical therapy.
Foley generally recommends exercise when appropriate, and encourages patients to participate in pulmonary rehabilitation programs and attend support group meetings.
---