Dieticians' Latest Book Offer Strategies
To Tackle Childhood Obesity

Childhood obesity in the U.S. has grown to epidemic proportions. One in five children is considered overweight.
With this in mind, two UConn dieticians have authored a book to help parents develop a healthy lifestyle for their families.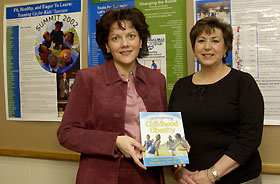 Photo by Dollie Harvey
"The numbers tell a tragic story," says Ellen Shanley, director of the dietetics program in the Department of Nutritional Sciences. "The best hope for ensuring children are healthy and fit is to change the family's eating behaviors and increase physical activity, and if possible establish these habits early in a child's life."
Overcoming Childhood Obesity promotes a preventive approach ranging from infancy through the teenage years. Shanley and co-author Colleen Thompson believe that the family unit is the primary and essential means of support and motivation in the obesity battle.
"That is why we wrote the guidebook," explains Thompson. "Everyone in the family should get involved in the process, from meal planning to grocery shopping and meal preparation."
The UConn dieticians, both working parents themselves, know how time-consuming and difficult it can be to break old habits and start anew. The key, they say, is organization. To make the transition as painless as possible, the book includes samples of easy-to-make recipes and menus, shopping lists, and a list of essential staples to keep on hand.
The authors also included resource material, including growth charts and dietary guidelines for children. This information, they hope, will convince parents not to put their child on a diet, particularly a fad diet.
"Children need a specific caloric intake for proper growth, and restricting their calories can compromise their health," warns Thompson.
Feeding a picky toddler is quite different from feeding a teenager, she points out.
A wide range of behavioral tips are included in the book, but the researchers warn that trying to make extreme or dramatic habit changes could ultimately result in failure.
They suggest slowly putting the brakes on family trips to fast food restaurants. Since socializing with friends at the local restaurant can be as important to children as the food, teach them how to make better food choices. A bottle of water instead of a soda saves calories; so does sharing an order of fries.
Substitute usual choices with low-fat items. For example, serve low fat instead of whole milk, and 100 percent juices instead of juice drinks and sweetened beverages.
Avoid foods labeled as "reduced-fat" and "lite" foods, because most of them have replaced the fat with additional sweeteners. People tend to eat more of a food they think has fewer calories.
Avoid the "clean your plate" trap with your kids. And make sure portion sizes are appropriate for the child's age. Also, a child who is forced to eat may associate food with negative pressure, so eating becomes less about nourishment and more about control.
Make family mealtime a priority and a pleasant experience. Children who regularly eat with the family are more likely to learn how to make healthy food choices.
Get the family off the computer chair and away from the TV, and plan an activity or some form of exercise. Regular physical activity not only burns calories, it also strengthens bones.
"Childhood obesity is not caused by one single factor," says Shanley. "That's why our book offers parents an array of suggestions we hope will help them become proactive in assuring their child's health and future."
Overcoming Childhood Obesity is the second collaboration between the two dieticians. In 2001, they authored Fueling the Teen Machine. Both books are published by Bull Publishing Co. of Boulder, Colo.
---