Natural History Museum To
Establish Archaeology Center

The State Museum of Natural History at the University of Connecticut has announced plans to establish a Connecticut Archaeology Center this spring.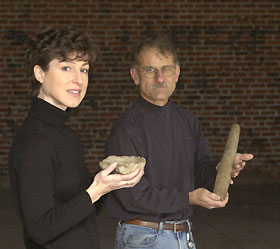 Photo by Dollie Harvey
The center will provide support for UConn graduate and undergraduate students, and will operate archaeology field schools. It will also provide elementary and secondary school teachers with training, curriculum guides, and teaching resources; provide technical training and assistance to Connecticut municipalities; and offer access to maps, collections, and an archaeology library to professional archaeologists, students, and the public, says John D. Petersen, provost and executive vice president for academic affairs.
"The new center will expand the museum's ability to promote an understanding and appreciation of both cultural and natural history and allow it to grow in new and important ways," says Petersen. "It will be an important resource for the citizens of Connecticut as well as for students and faculty at the University."
Nicholas Bellantoni, the state archaeologist, who has a joint appointment in the anthropology department, will head the center, which will become a part of the state Museum of Natural History. The second and third floors of the museum, located on Hillside Road, will be renovated later this year to accommodate the center, expected to open in the fall 2004. The renovation will allow the public to see first hand Bellantoni's work to preserve archaeologic al sites throughout Connecticut, by providing both a working lab open to the public and small-scale exhibit space.
The new center will provide access to site files, maps, collections, and an archaeological library, as well as maintaining an active Web presence.
Ross MacKinnon, dean of the College of Liberal Arts and Sciences, says the center will provide a new focus for the museum's activities. "The center will blend the museum's programming, exhibits, and collections conservation with the Office of State Archaeology's mandated work to preserve archaeological sites in Connecticut," he says. "More important, it will help expand the museum's role as a public link to the largest collection of Connecticut artifacts."
The museum, founded in 1985, is the official state repository for all archaeological materials, and supports UConn researchers in a variety of departments, including biology, geology, and anthropology. It is headed by Leanne Harty.
The 2004 renovations will allow the museum to provide a significant increase in exhibits and programs for the public, and will be a first step in expanding the museum. A major addition to the museum is planned as part of the 21st Century UConn program.
The new center will increase support for the Office of State Archaeology, which is mandated to protect some 1,000 archaeological sites on state land and more than 3,000 sites on private land. The state archaeologist also provides technical assistance to municipalities; cares for anthropological collections; and works with the Native American community to protect burial sites and return sacred materials.
---