Major Renovations Planned
For Health Center Library

Major renovations to the Health Center's Lyman Maynard Stowe Library - the first since it opened more than 30 years ago - will get underway this spring, with $1.65 million in bond funds released in December.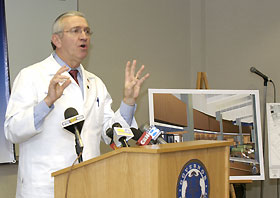 Photo by Peter Morenus
The funds for the renovation are part of $3.2 million in bond funds whose release to the Health Center was announced by Gov. John G. Rowland in a visit during which he also toured the research wing and the Pat and Jim Calhoun Cardiology Center. The remaining funds will be used to upgrade a wide variety of research equipment in the medical, dental, and biosciences graduate schools.
Ralph Arcari, library director, says the library overhaul is designed to make it more efficient and user-friendly.
With the funds, the main entrance will be moved to the bottom of the large staircase that leads into the library. The circulation and reference areas will be moved just inside the new entrance to provide a single point of service for students and other patrons.
"Currently our circulation desk is adjacent to the main entrance, while the reference area is around the corner. Staff in the circulation area cannot see the reference staff, and the separation is unwieldy for students and patrons who need to use our services," says Arcari. "The new configuration will be much more efficient and user-friendly for both users and staff."
Once the circulation area is relocated, the space will be turned into a 24-hour study room with access to the library's 2,700 electronic journals, 179 electronic databases, and 173 electronic textbooks. "We tried to be as accommodating as possible, but it wasn't economically feasible to staff the library overnight," says Arcari. "The 24-hour study room, with access to our electronic resources, is a major improvement for the students."
Installation of bathrooms is another major enhancement for students, who now have to leave the library and walk up a flight of stairs to find a bathroom. The heating and ventilating systems will be thoroughly renovated to improve circulation. In addition, a folding partition will be installed in the large computer laboratory, so the room can be converted into two separate smaller classrooms, as needed.
The 33,000-square-foot library was designed in the 1960's and built in the 1970's. "It was intended for a print and paper world that doesn't really exist anymore," says Arcari. "With computers and the Internet, almost everybody has access to information, but using the access is not always intuitive. Rather than serve as an inventory facility for storing information, the library's focus has shifted to training and education so that students and other patrons can use that access effectively."
The architectural firm handling the project is DuBose Associates of Hartford. The renovations are scheduled to get underway in March and be completed by the end of the year. The library will remain open throughout the renovations.
---