Law Professor Examines Role
Of Ethics In Legal Profession

Someone who met Sean Griffith when he was heading off to college and asked him what he planned to do with his life would not necessarily have heard "law professor" among the career paths he was contemplating. Although he had early leanings toward academia, he also considered pursuing a Ph.D. in philosophy, worked as a playwright, and practiced corporate law before joining the Law School faculty.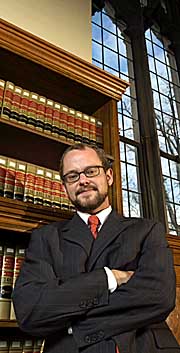 Photo by Peter Morenus
Griffith joined the Law School faculty last fall as an associate professor, after a two-year stint as an associate in the corporate department of a leading New York law firm. He is one of two faculty members who specialize in business law.
Griffith says his university appointment is "the best job there is," adding, "this is just a natural place for me.
"Private practice wasn't for me," he says. "I was always more interested in theoretical issues and problem areas. There are a lot of good questions about corporations and governance that need serious research to be answered."
Griffith uses his scholarly writings to look for answers to some of those questions. In a recent commentary for the Connecticut Law Review, he used the Enron crisis to examine whether there is something wrong with legal ethics. According to Griffith, the field of legal ethics has "failed to produce a normative principle capable of constraining the conduct of business lawyers in the current corporate scandals."
In the article "Ethical Rules and Collective Action: An Economic Analysis of Legal Ethics," published in the winter 2002 issue of the University of Pittsburgh Law Review, he contends that the bar associations and the ethical codes they promulgate exist primarily to promote the collective self-interest of lawyers.
"Because lawyers, like all individuals, are motivated primarily to serve their own self-interest rather than the interests of the collective entity, in this case the bar, the legal profession must devise a means of subordinating the incentives of individual members to its collective interest," Griffith writes. "In this way, the structure of the rules of legal ethics is determined primarily by problems of collective action."
Lawyers face collective action problems when the possibility exists of acting in a way that will benefit them or their clients but will hurt the legal profession as a whole. According to Griffith, lawyers have strong incentives, such as financial rewards, to choose their self-interest over the collective interest. As a result, the bar establishes rules to deter individual selfishness in favor of the interests of the profession as a whole.
Unfortunately, he notes, the interests of the legal profession are not perfectly aligned with social welfare - that is, the interests of society as a whole. Ideally, lawyers would consider the perspective of aggregate social welfare, not just the narrow interests of their clients. But he concedes that would be a hard change to make, since it would also require reforming the procedural system within which lawyers operate. An easier change might be to include non-lawyers on the commissions that draft and adopt ethical rules, Griffith says.
"Encouraging the participation of non-lawyers in the drafting of ethical rules is more likely to result in a legal system that serves social welfare than is reliance on the altruism of lawyers or the coincidence of the interests of the bar and the public," he writes.
Griffith, who was an Olin Fellow in Law & Economics as a student at Harvard Law School, is one of a few who write about ethics from the standpoint of law and economics. "A lot of people who write about ethics don't understand it from that perspective," he says.
He uses law and economics as a framework to investigate corporate law issues as well. His most recent publication, "Deal Protections in the Last Period of Play," in the April 2003 issue of the Fordham Law Review, analyzes merger agreements from the perspective of theoretical economics, while a forthcoming article in the Brooklyn Law Review addresses the legal regulation of initial public offerings from the perspective of financial economics. He is currently working on a piece that applies game theory to a recent Delaware Supreme Court decision involving mergers and acquisitions.
When he first arrived at law school, Griffith was particularly intrigued to learn about the abstract foundations of the law. After serving as the Developments Editor of the Harvard Law Review, he graduated believing that he would eventually become a professor himself.
But his experience in corporate practice taught him a valuable lesson: "I discovered that the best lawyers were both practical and theoretical," he says.
In addition to courses on business organizations and securities regulation, Griffith shares his knowledge of the business world with students through a seminar on corporate governance and financial markets.
"The good part about having been in practice is that I can do practice-oriented exercises with my students," he notes. "They seem to both like and benefit from a mix of the practical and the theoretical."
---