New Physical Therapy Clinic Offers
Students Real-World Experience

A new rehabilitation clinic in Storrs is helping UConn students in the physical therapy program gain practical experience and keep pace with the latest developments in the field.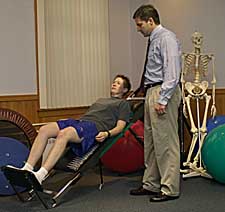 Photo by Dollie Harvey
The Britta R. Nayden Rehabilitation Clinic on Dog Lane, which opened in a former bank building earlier this year, provides faculty and students with a fully accessible, modern facility close to campus that can provide service for more than 10,000 patient visits per year. The clinic was made possible by a $125,000 gift from Denis Nayden '76, '77 MBA, and Britta R. Nayden '76, a graduate of the physical therapy program.
The Naydens have also supported programs in the School of Business, including the Connecticut Information Technology Institute (CITI) at the Stamford campus and the School of Business Building Fund.
Scott Hasson, professor of physical therapy and chair of the department, says, "We wanted to create a model clinic, where best practices are being performed, where evidence-based practice of the highest level is being done."
"The Nayden Clinic allows us to do a better job of integrating all aspects of the students' education," he adds. "Our students have our faculty educating them, they see real patients in a real world setting, and we determine what our outcomes are from a research basis."
The clinic operates in partnership with Windham Community Memorial Hospital, which provides administrative oversight and consultation.
Joseph W. Smey, dean of the School of Allied Health, says the physical therapy department is planning to expand its offerings to include a doctorate. "The Nayden Clinic will serve as a catalyst to support academic growth," he says, "allow for expanded learning opportunities for students, and provide an environment to support research."
The Nayden Clinic offers a site for labs and teaching in addition to those in Koons Hall, and is more convenient for patients, with easy access from Route 195 and plenty of parking.
"For every course we teach, we ask how we can build in patient exposure in our curriculum so as to provide students with a perspective that a lecture or laboratory doesn't necessarily include," says Michael Zito '71, an associate professor of physical therapy. "We now have an environment that shows students what the expectation is for their skills and patient care. Students enjoy getting reinforcement of what the professor said, and learning what the fabric of patient care looks like."
Morgan Hills '92, director of the Nayden Clinic, says the clinical instructors provide students with the benefit of their experience and demonstrate their approach to patient care.
"It's very important that students understand how all the pieces fit together," says Hills. "Here they have the ability to do that. They can come in and talk with patients and practice their skills."
---