Evolutionary Treasures Stored, Studied
In New Collections Facility

Although they're no longer living, hundreds of thousands of biological specimens may yet yield their secrets to researchers seeking clues to evolution. And the chances of their doing so are better than ever, now that they are housed in a new facility that brings together the University's biological collections and accommodates them in easy-to-access cabinets and drawers.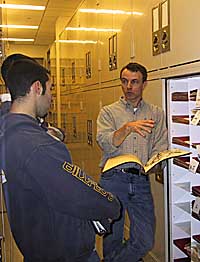 Photo by Dollie Harvey
During the spring and summer, the contents of hundreds of cabinets were carefully moved from scattered sites across campus to the new Systematic Research Collections Facility on the first floor of the Biology/Physics Building.
Completion of the move will be celebrated Dec. 5, with an event, by invitation only, that will include a presentation by Peter Raven, director of the Missouri Botanical Garden and former secretary of the National Academy of Sciences, as well as tours of the facility. A permanent display of selected specimens is also being mounted in the atrium of the Biology/Physics Building.
The new facility, designed by Allan Dehar Associates with input from collections personnel, has custom-built mobile, compact storage, sophisticated temperature and humidity controls and sprinkler systems, three curatorial offices, space for visiting scientists, and storage for the library associated with the collections. There is also a room for storing materials preserved in fluid and state-of-the-art research greenhouses for living plants.
The collections support the research and teaching of the ecology and evolutionary biology department, serve as a resource to help professionals and amateurs identify species, and support outreach to groups ranging from preschoolers to senior citizens.
"Our collections are analogous to a collection of historical documents, a library of natural history materials," says Gregory Anderson, professor and head of the ecology and evolutionary biology department. "The materials represent the biological history of the state, the region, and many tropical areas. By maintaining them, we provide a database for the researchers of the present and the future."
Although some of the specimens date back to the 1800's, they remain vitally important in evolutionary and taxonomic research. New techniques using DNA sequences - which can be extracted even from long-dead specimens - may reveal new evolutionary information. And the collections can be used to track changes in the territorial range of a species or to find out when an alien species first invaded.
In upgrading its collections facility, UConn is bucking a national trend. Many universities are scaling back or closing down their natural science collections, according to an article in the June issue of BioScience, raising concerns about the training of the next generation of botanists, zoologists, curators, and scientists who specialize in 'whole organism' biology. UConn's new facility attracted the attention of the National Science Foundation, which supported the move with a $440,000 grant.
Jane O'Donnell, collections manager, says UConn's collections represent "a library of biodiversity that can't be duplicated anywhere." The new collections facility enhances the ecology and evolutionary biology department's strong reputation, she says, and "shows an appreciation for organismal biology and the value of the specimens and the information they provide."
Planning for the new collections facility began almost 10 years ago. Until the Biology/Physics Building - a UConn 2000 project - was completed earlier this year, the collections were housed in several different buildings and in unfavorable conditions.
Moving specimens that ranged from fragile bird eggs and rows of dried insects on pins to massive fossil plants posed some special challenges. Everything that was not preserved in fluid had to be frozen, to prevent any pests that might have been in the old facilities from moving along with the collections. Over a period of five months, the contents of hundreds of cabinets spent a week at minus 20 degrees in a rented freezer truck, before being relocated to their new home. Other specimens had to be protected from the light in order to preserve their colors.
The move was also an opportunity to upgrade the classification system. Before being packed, each specimen was painstakingly labeled or relabeled and logged into a computer database.
"We had to reorganize quite a bit, because classifications have changed since the last time we had the opportunity to reorganize the collections," says O'Donnell. "Names change, species concepts change. This sort of work never really ends."
The move also brought to light a specimen that had been overlooked for many years: a moa, a species of bird from Australia and New Zealand that is now extinct, was found in an unmarked box.
The new surroundings also allow for expansion, and have already attracted some significant donations.
One such gift is from Carl Rettenmeyer, professor emeritus and founding director of the State Museum of Natural History, who is donating more than 100,000 specimens of ants and their parasites, one of the most outstanding collections of its type in the world.
Other gifts include a collection of shark parasites and a significant butterfly collection.
---