Animal Science Professor's Teaching
Award A Feather In His Cap

It's 11 a.m. and students take their seats. The room darkens and dozens of colorful chickens dance their way across screens at the front.
"Welcome to the chicken dance," quips Michael Darre. Today, students in his introduction to animal science course will learn about poultry, Darre's area of expertise.
"What is poultry?" Darre asks. Several hands dart up. "Chickens," says one student. "Geese and turkeys," says another. Someone else shouts out "Ostriches and emus."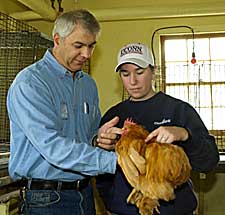 Photo by Dollie Harvey
Casually dressed in blue jeans and sneakers, Darre walks around the room, calling on students by name. "What are poultry used for?" he asks. "Egg layers and broilers," says one.
"Why eggs? Why do we eat these things?" Darre asks. Several students respond, and Darre says, in the words of the American Egg Board, "Because they're incredible and edible."
Discussion ensues about the health benefits of eggs. Darre even teaches students how to make egg drop soup. "It's easy to make, fun, and good for you," he says.
Many visuals illustrate points during the lesson, which is peppered with Darre's special brand of humor.
Darre, a professor of animal science who came to UConn in 1981, says learning is an active process.
"Learning involves multiple senses, motivation, and a good teacher. The more actively involved a student becomes in the learning process, the higher the level of success," he says.
Some 65 percent of Darre's time is spent on cooperative extension work. He is the extension poultry specialist for New England.
As both a classroom teacher and a cooperative extension educator, Darre tries to know students on a first name basis, engage them in discussions and debates in and outside the classroom, and provide hands-on experiences.
Darre involves students in group projects and encourages them to "work with and help each other along the way. This reinforces what they have learned and builds a sense of community in the classroom," he says.
"I also believe learning should be fun, and I use humor to help make points," says Darre who, for his teaching excellence and dedication to the profession, was named a University Teaching Fellow this year.
He says he is a strong proponent of experiential learning. Students in his introductory animal science class, for example, are required to choose farm animals - poultry, dairy cattle, beef cattle, sheep, swine, or horses - and groom, train, and show them.
In his animal behavior and training class, students apply behavioral modification and training methods they have learned to an animal of their choice, and demonstrate in class what they have accomplished with their animal. Students can work with any animal that is trainable, from horses and cattle to dogs and cats. One student taught a chicken to jump on command. "It was hilarious," Darre says.
Although he admits it is a "fun class," he doesn't hesitate to stress its importance.
"You can't be a good animal scientist and work with animals if you don't know their behaviors," he says. "You have to know how to protect yourself against them, should the situation arise. You have to learn how to read their body language and understand it."
In his poultry science class, students formulate rations, mix feeds, feed and raise broiler chickens - a six-week project - process them, and prepare a meal.
Natasha Bangel, a freshman in the introductory animal science class, likes the hands-on aspects of the course. "Professor Darre teaches and applies things to everyday life," she says. "He explains everything very well at the barns and labs and brings in equipment to show you how to work with the animals."
Chelsea Zarker enjoys Darre's sense of humor. "He makes the class comfortable and light," says the freshman. "It doesn't feel as if you're being made to sit still, say nothing, and get lectured at." She says she is surprised at how much she has learned, "and the semester isn't even over yet!"
Darre incorporates technological tools including audio/visual models, interactive computer-assisted learning, and web pages into his lectures to involve as many sensory inputs as possible. "Students learn in many different ways," he says. "Some are visual learners, some tactile, some auditory. But one thing's for sure - the more senses are activated, the better the information is learned and retained."
When Darre's introductory animal science class meets the first day of the semester, he asks students a lot of questions. "I want to know who they are as individuals and why they are there," he says. "Then we get into the syllabus. Students need to think about their goals, and where they want to be five years from now."
Darre has been chair of the animal science courses and curriculum committee since 1995, is chair of the College of Agriculture courses and curriculum committee, and co-chairs the Senate curricula and courses committee. He is also a member of the General Education Oversight Committee.
He has previously received two teaching awards within the College of Agriculture.
---