English Honored For Distinguished
Career In Theater, Academe

It's not surprising that Gary English was attracted to the theater.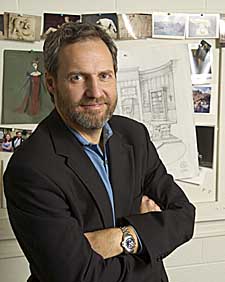 Photo by Peter Morenus
"My parents were both musicians and my father was a music professor," says English, professor and head of the dramatic arts department. "As a child I lived in Chicago, studied music, and went to concerts, musical theater, and opera all the time."
English, a stage designer with creative work in regional theater, Broadway, off-Broadway, television, and university theater, has achieved national and international recognition in his field.
He was recognized by the University when he was named one of this year's five Board of Trustees Distinguished Professors. The lifetime award is the University's highest recognition for a faculty member.
In high school and college, English was intrigued by history, fiction, and philosophy. "I found theater to be living fiction - a way in which we can explore the relationship of ideas to human existence," he says. "I was interested in grappling with complex and complicated human problems, and theater was the perfect synthesis of ideas and storytelling and speculations on human nature."
Simultaneously, English says, he had a tremendous interest in the visual arts, particularly painting and architecture. "To study theater would be the perfect fit," he says. "It was a place where visual art, performance, and ideas are all synthesized."
So he studied drama production, with an emphasis on acting, at the University of Arizona. Intrigued by his design classes, he decided to pursue an MFA in stage design at Northwestern University.
"Stage design brings you into the theater from both a literary perspective and a narrative perspective," English says. "You have to create performance environments in which visual narratives can unfold. It requires dealing with all aspects of physical production, as well as visual ideas. How to tell the story in truly visual terms, as well as how to narrate in textual terms. These are the fundamental core elements of directing."
In addition to his theater work, English was involved in sports, playing basketball and baseball. "I found a tremendous amount of similarity in the way artists and athletes discipline or train themselves," he says.
English says he enjoys the variety theater provides. "Every project is different," he says. "You're dealing with everything from ancient Greek plays and Shakespeare to works from the 17th century, musical theater, opera, and ballet. Each one deals with some aspect of human potential or tragedy, and has different text and performance requirements."
English founded the Connecticut Repertory Theatre in 1993. "It's a model that is unusual in university theater in the United States," he says. "It is based on the principle that you bring professional actors and directors to work with students on a regular basis. It gives students tremendous advantages professionally, and jump-starts their careers."
In addition to his duties as department head, English continues a professional practice in scenic design and directing. "I think it's important that I've sustained my identity as a working professional," he says.
English regularly designs for theaters throughout the United States, including the Pioneer Theatre Company in Salt Lake City, the Repertory Theatre of St. Louis, and Cincinnati Playhouse in the Park. He also directs, most recently at the Berkshire Theatre Festival in Stockbridge, Mass.
"Keeping my life active as a creative artist is really why I continue to be involved administratively," English says. "I ascended to department head because of my success in the theater, not because I have a background in higher education or administration. My continued success as department head or as any kind of leader in the University is still very dependent on my identity as a creative artist."
English also devotes a significant amount of time to faculty governance, through the University Senate and other committee work. He served 10 years on the Senate, six years on the Senate Executive Committee, and two years as faculty representative to the Board of Trustees. He was interim dean of the School of Fine Arts; has been chair of the Senate's Curricula and Courses Committee; and is serving on the Academic Plan Task Force.
"I think it's important for faculty to be engaged in these activities," he says. "And it's particularly important that artistic leaders not be excluded from what is a campus-wide debate about the nature of the University."
English says working at a University has "great advantages" over a strictly professional lifestyle.
"I contribute to the development of young talent and see it mature," he says. "Many of my former students have successful professional and teaching careers at colleges and universities. That's very satisfying. And, at the same time, I'm able to do my own work. That's a great gift to have."
---