Former Black Panther Recounts
History Of Black Power Movement

More than 200 UConn students who were not yet born when the Black Power movement swept the nation turned out to hear former Black Panther Party leader Kathleen Cleaver speak of the emotionally charged time in recent history that spawned the movement.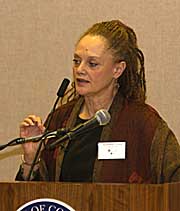 Photo by Dollie Harvey
Cleaver, now a Yale law professor, abandoned college in the 1960s to work first with the Student Non-Violent Coordinating Committee (SNCC) and later with the Black Panther Party.
She was the keynote speaker for "The Black Power Movement In Historical Perspective," a two-day conference in the Lewis B. Rome Commons that was sponsored by the Institute for African American Studies.
Cleaver, the party's communications secretary from 1967 to 1971 and the first female member of the central committee, downplayed her own role in the struggle. Instead, she focused on explaining the political context of the time and the beliefs that compelled her to join the Panther leaders who were in the spotlight, including Huey Newton, Bobby Seale, and her former husband, the late Eldridge Cleaver, with whom she lived abroad for years after he fled the country.
"The Black Power movement arose out of a social movement that deeply inspired me and that I wanted to be a part of," she said.
"It arose out of corrupt acts that were coercing inferiority.
"Black Power was intuitive. Anyone could grasp it," she added. "Anyone could interpret it in their own way and thus, Black Power had no limits." The murder of NAACP official Medgar Evers, the Watts Riot of 1965, the increasing willingness of black Americans to assimilate themselves into the largely white society, and other events pointed this out even more forcefully to her, she said. "Many of you who are not from the South don't understand how rabid white Southerners can get over black children sitting beside their white children."
Cleaver said the Black Panther Party was not opposed to the non-violent methods of the NAACP, SNCC, or Martin Luther King. However, party members saw integration as denying oneself and one's culture, while adopting the belief system, cultural accoutrements , and political structure of the ruling white establishment.
The assassination of King and Malcolm X, and the violent police raids on the homes of party members, not only precipitated a surge in membership and a more cohesive, stronger party, but also forced some members to take up arms in self-defense, she said.
During her talk, Cleaver acknowledged Willie "Mukasa" Ricks in the audience. Although it was the charismatic Stokely Carmichael whose call for "Black Power" reverberated across millions of TV screens, said Cleaver, it was Ricks who coined the phrase. Ricks was one of about 40 speakers at the conference, which was organized by Jeffrey O.G. Ogbar, associate professor of history and director of the institute.
"'Black Power' said more than 'Freedom Now,'" Cleaver said. "It was simpler than 'One Man, One Vote,' and it was gender free."
She told the young audience that despite the current lack of larger-than-life leaders, they could draw upon their heritage for strength in fighting against today's "neo-colonial structure" that committed terrorist acts through both covert and overt acts.
"We've come to the legal end of white supremacy. But, quiet as it's kept, the United States does have a neo-colonial structure," she said.
"We have Clarence Thomas, who has a black face. Condoleezza Rice, who has a black face. Colin Powell, who has a black face. We even have a stamp for Kwanzaa.
What people of color don't have, she said, is a "disciplined organizing structure to change the lives of black people.
"But, that doesn't mean we can't," she added. "So let's get on with it."
---