Teaching Fellow Balances
Structure And Flexibility In Class

Ask students in Preston Britner's class what he might do to improve his effectiveness in the classroom and the response is unanimous: nothing.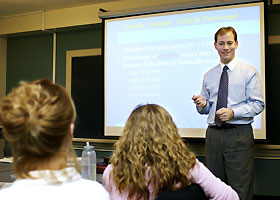 Photo by Dollie Harvey
This much-admired associate professor of family studies is highly respected by undergraduate and graduate students alike for his skillfully prepared lectures, fine organizational skills, fairness, humor, and dedicated mentoring.
All these characteristics and more have earned Britner University-wide recognition. He is one of three faculty members to be named 2003 University Teaching Fellow, the highest teaching honor at UConn. In addition, last year he received the AAUP's Teaching Excellence Award for teaching promise.
"After you take his course, you walk away with practical knowledge and skills to apply to a real-world setting," says Tara Folan, a doctoral candidate in family studies.
Rebecca Sullivan, a senior with an individualized major, says Britner gives students a chance to make their own presentations and offers many other opportunities for hands-on learning.
The two were speaking during a short break in a recent class that was part of Britner's graduate course on Social Policy, Law, and Child Welfare.
Using clinical case history, the morning's round-robin discussion centered on examining the legal rights of adolescents, including institutionalized children; teenage sexuality; and adolescent abortion decisions.
"This is not a moral debate on the ethics of abortion," Britner said, as he delved into the topic. "It's about the complex decision-mak ing process."
Seated with his students at a board room-like table, Britner interjected a taste of his humor when a student commented mid-way through class that all teenagers are a "little nutty."
"You need to come to my Adolescence class," he shot back, not missing a beat.
Britner, who joined the faculty in 1997 as an assistant professor in the School of Family Studies, believes that good teaching starts with solid preparation, a strong foundation of knowledge, and a cohesive "game plan."
Since 1997, he has developed five new courses, one of which, "Adolescence: Youth and Society," has been recognized by the National Leadership Resource Database of the Association of American Colleges and Universities' Pro- gram for Health and Higher Education.
"Although I always have a prepared lecture and research examples, I also challenge students to question the research and justify their arguments in class discussions and debates," says Britner. "I think it's important to strive for flexibility amidst structure, to be able to break from a fixed path of a lecture to address questions, launch discussion, and attend to the interests and individual learning styles of students, without losing sight of the goals of the class as a whole."
Britner says he requires his students to write a lot and talk a lot. "I set high expectations and high standards," he says, "and they rise to that level."
Since elementary school in his native Virginia, Britner has been drawn to a teaching career.
"I was inspired back then by my seventh-grade teacher at the Cooper International School," he recalls. "I enjoyed his hands-on involvement and the active-learning style in his classroom."
Years later, the two elements are an integral part of Britner's own teaching style.
Charles Super, professor and dean of the School of Family Studies, says a "distinctive combination of teaching and scholarly research" permeates Britner's work.
"At the most concrete level, Brit is unusually organized in his formal lecturing to include research findings about the main topic. While that might seem an obvious thing to do, it is surprisingly difficult, at times, when the topics are emotional ones that speak directly to students' lives," says Super. "This is the case for most of Brit's topics - parent-child relations, child abuse, adoption, maternal leave, and other such issues.
"Many can give a fact-filled lecture," he adds. "Many can talk in generalities and anecdotes that engage the idealism or personal concerns of the students. Very few can do both at the same time. Yet Brit has somehow mastered this technique early in his career."
Before joining the UConn faculty, Britner was an assistant professor in the psychology department at Smith College.
He graduated cum laude from the University of Miami in 1990 with a bachelor's degree in developmental psychology and was the recipient of the Iron Arrow, the highest student honor. He earned both a master's degree and a Ph.D. in developmental psychology from the University of Virginia, where he won an award as the outstanding student in the graduate school of arts and sciences. While at the University of Virginia, he also participated in many activities at the university and in the community, a standard he carried with him to UConn.
A coaching enthusiast from his youth, Britner has served as the UConn faculty advisor for the Men's Soccer Club, as well as for Kappa Sigma Fraternity and Kappa Kappa Gamma Sorority. He was a member of the 2003 Student Life Awards Committee and an active participant in a myriad undergraduate and graduate activities, from career nights to panels, in addition to being advisor to dozens of undergraduate and graduate students.
On the community level, he is working with the Department of Children and Families on several studies involving services for youth in foster care.
On the scholastic front, he is the associate editor and incoming editor for the Journal of Primary Prevention, and is an editorial board member for both the Journal of Child and Family Studies and the Journal of School Psychology.
---