Care Of Sick Newborns The Focus
Of Health Center Nursing Conference

More than 130 nurses from 21 hospitals around the state came to John Dempsey Hospital last week for a day-long conference on caring for high-risk pregnant mothers and their sick newborns.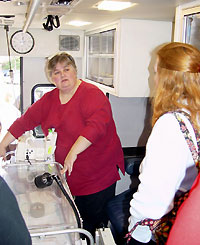 Photo by Jane Montgomery
The conference was sponsored by the Health Center, which is the hub of a network for mothers and babies who need special care. The neonatal intensive care transport team travels to community hospitals to bring babies in need of specialized care to the Neonatal Intensive Care Unit. Since 1975, when the service started, the Health Center has transported more than 8,000 high-risk babies in need of acute care.
The organizers hope the conference will become an annual event for perinatal nursing staffs at community hospitals.
During the 1990's, the Health Center used to offer an annual educational program for community hospital nursing staff that met one day a week for six to eight weeks.
"As the nursing shortage occurred and cost containment became a focus, it became increasingly difficult for hospitals to commit to sending their nurses for so many days," says Sue Ellen Goodrich, perinatal clinical nurse specialist, one of the conference organizers. "In an effort to continue to support and meet the educational needs of our community hospitals, we re-designed. We felt this format would make it more convenient for everyone."
This year's conference focused on high-risk conditions of pregnancy. Speakers included Mary Ellen Burke Sosa, president of Perinatal Resources, in Providence, R.I., a nationally recognized speaker who presented two lectures on "Pregnancy-Induced Hypertension" and "Third Trimester Bleeding Emergencies;" Dr. Anne Marie Prabulos, assistant professor of obstetrics and gynecology at the Health Center, who discussed "The Insulin Dependent Diabetic in Labor;" and Terese Donovan, neonatal clinical nurse specialist at the Health Center, who discussed "Immediate Care of the Infant of the Diabetic Mother."
"Although the majority of pregnancies are without complication, problems can develop," says Goodrich. "It's important for nurses to be aware of them. These women and their babies will need more intensive assessment and intervention."
In many cases, women with these high risk conditions are initially evaluated at community hospitals. "The nurse needs to recognize when a pregnant patient or her newborn may need to be transferred to Dempsey for specialty care," Goodrich says. "They do a wonderful job caring for and stabilizing these patients until our transport team arrives."
One of the goals of the conference was to bring the state's perinatal nursing staff together to provide some uniform information and training, says Jane Montgomery, director of maternal fetal outreach nursing education, who was also a conference organizer. Montgomery routinely provides fetal monitoring education programs at the community hospitals. "We also wanted to bring the staff together so they could network and learn from each other," she says.
During a break in the conference, participants were able to tour one of the Health Center's two specially equipped neonatal transport vans.
"A lot of babies are born in a community hospital where the outcome is routine and normal," says Mary Ann Bertini of Griffin Hospital, who attended the conference. "But you have to remember that things can go wrong in an instant and you have to be prepared all the time.
Adds Bertini: "We're very fortunate that the Health Center can provide this kind of conference. To be able to have a conference with this expertise right here in the state makes it much more possible for our nursing staff to attend."
---