Extension Program Helps Inmates
Prepare For Life Beyond Prison

They crochet blankets for the homeless, prepare mailings for charity, and develop literacy materials for children. They record tapes for the blind and write articles on self-esteem, discipline, and motivation.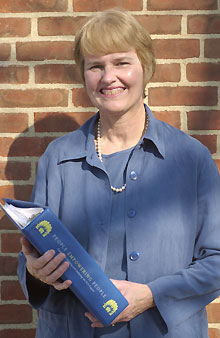 Photo by Melissa Arbo
They're also behind bars.
Inmates at prisons around Connecticut are participating in a program known as "People Empowering People" (PEP), designed to build on people's strengths and improve their lives, says Cheryl Czuba, a UConn cooperative extension educator in Haddam. The program, for adults and older teens, "recognizes the unique gifts and capacities of every individual and encourages participants to express issues as they see them," says Czuba, who developed and coordinates PEP. "It also emphasizes the connection between individual and community action."
Facilitators, who are either volunteers or paid staff, take part in a two-day training session.
The PEP program, which Czuba started some 10 years ago among the general population, has been offered in Connecticut prisons in Brooklyn, Cheshire, Enfield, Niantic, and Uncasville. Since 1999, about 100 prisoners have gone through the program.
Both female and male prisoners partake in PEP, which includes 10 two-hour sessions. Topics include value clarification, communication skills, problem solving, understanding the helping role, community awareness, and parenting. There are team-building exercises, discussions, and projects to help the needy. Prisoners read and discuss Victor Frankl's Man's Search for Meaning.
Formal training sessions for the prisoners are followed by weekly educational and support sessions on topics including financial management, housing issues, non-traditional careers and work on community projects.
"I am moved by their resiliency," says Czuba of the prisoners. "They are the 'throw-aways' of society, but I don't see them that way. They have a lot to offer and, given the tools and support, they can be contributing members of society."
Kathleen Archambault, a volunteer PEP facilitator from Essex, has led training sessions at correctional facilities in Niantic and Uncasville.
"The residents of these facilities are often complex people," she says. "They usually display compassion, humor, honesty, courage, and dignity in the face of adversity. Whatever veneer they have devised to protect themselves is readily peeled back when they encounter kindness and caring."
She leads groups of about 15 inmates in a classroom setting.
"They're extremely appreciative of any effort made on their behalf," says Archambault, noting that those in the program are among the most motivated of the prison population. There are more people on the waiting lists than there are slots available in the program. When she began offering PEP sessions, Archambault says, there were more than 100 applicants for 15 slots.
Archambault says the men and women she has met in prison are often "very na•ve. They may have some street knowledge, but they have seen very little of the world. Men often have distorted views of relationships, women, and family life," she says. "Many have undervalued the importance of education and have struggled academically. The result is that many have selected 'easy money' and drugs as the rite of passage to manhood."
Most inmates have had problems with their families, Archambault says. At one prison, 75 percent of the men she worked with had not known their fathers. "In most instances," she says, "they had little understanding of the things required of good parents.
"The opportunity to examine the underlying values that shape behavior is a crucial first step in their understanding themselves within the context of their communities," Archambault says. "Their development of communication and problem-solving skills gives them a new confidence in their ability to chart their own courses in life."
Seeing the change in the participants is what Archambault finds most satisfying about her work with PEP.
"To take a group of individuals who have failed in society's eyes and make them feel they can succeed, and have succeeded, is very rewarding," she says.
UConn's School of Family Studies is conducting research on the impact of the PEP program, both in the community and in prison.
"The rates of recidivism are high," Czuba says. "We hope the program gives people skills that will be helpful to them when they are released. We don't want them coming back."
To volunteer with the program, either in the community or in the prisons, contact Czuba at: cczuba@canr.uconn.edu.
---