African-American History Told Through
Images Of Black Photographers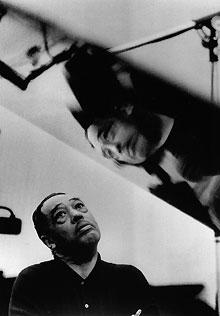 Photo by Gordon Parks
One of the country's leading historians of African-American photography and culture took an audience of 150 people on a journey of images, some powerful, some personal, that were seen over two centuries through the lenses of black photographers, including her own and her son's.
Deborah Willis, a professor of photography and imaging at the Tisch School of the Arts at New York University, reflected on the lives and lifestyles of African-Americans from slaves to celebrities in her talk, "The History of African American Photography" Nov. 2.
"As a field of study, we're looking to the power of images," said Willis. "We see how people were feared and loved. These are stories we need to share."
Willis showed and commented on about 80 photographs taken from a collection of 600 during an hour-long presentation at Konover Auditorium.
"When I was an undergraduate at the Philadelphia College of Art, I asked my professor why there weren't any African-American photographers in our history books," Willis began.
It was a question that opened up her own field of research and one that eventually would lead her to a professional career as an art photographer, historian, curator, and author.
The question culminated in Willis's book Reflections in Black: A History of Black Photographers: 1840 to the Present (WW Norton, 2000), a comprehensive history of black photographers. Photographs from the book are a traveling Smithsonian exhibit.
For nearly a decade, Willis served as associate director for research and collections and exhibitions curator at the Smithsonian Institution's Center for African American History & Culture, where she co-curated the Gordon Parks photography exhibit now on display at the William Benton Museum of Art.
Her presentation opened with a photo of a slave master, his two young children, and a female slave.
"The slave master is showing slave property," Willis said.
A 1911 photo depicted Booker T. Washington, an educator born in slavery, speaking before a crowd of black men. It's a photo, Willis explained, that captured a rare scene of forceful public speaking.
Some of the photos projected were light-hearted, such as a 1932 Harlem scene showing a couple posing by a car, dressed in raccoon coats. Willis mused that the couple was saying, "Look how stylish we are." She also conjectured that they probably sent the picture to relatives in the South.
Other photos depicted night life and political life in Harlem, including a picture of former U.S. Rep. Adam Clayton Powell of New York, an outspoken civil rights advocate, walking on 125th Street surrounded by people.
Other memorable images included a young mother and her daughter standing outside a bus station in Alabama with a sign overhead that read, "Colored Entrance." The photo was taken by Parks.
Willis's talk also featured images of music giants Elvis Presley and B.B. King together; black activist Malcolm X with Muhammad Ali after he won his first fight; Coretta Scott King with one of her children at her husband's funeral; girls with fancy hairstyles holding their babies; a well-dressed woman with a fly on her hat; and a barber shop with a "buy black" sign.
A Willis photo featured an elderly friend of her mother's at her Philadelphia-owned beauty shop.
Hank Thomas, Willis's son, captured his aunt in sunglasses after the funeral of her son. Thomas is considered one of the most promising young photographers in the United States and is featured in a new book, Twenty-Five and Under.
The lecture, the inaugural Gene and Georgia Mittelman Distinguished Lecture in the Arts, was presented in conjunction with the exhibition, "Half Past Autumn: The Art of Gordon Parks" now at the Benton Museum. Parks is best known as a photojournalist for LIFE magazine. Other black photographers featured in Willis's presentation were James Presley Ball, James VanDerZee, and Jules Lion, who opened a studio in New Orleans in 1839 and established himself as a professional photographer documenting life in his community.
"In terms of scholarship and achievement, having Professor Willis here is equally as powerful as the Parks' exhibit," said Sal Scalora, director of the Benton Museum, who introduced her. "She has plowed fields no one else has touched."
The Mittelmans, who attended the lecture, have been supporters of the Museum for more thanthree decades.
---