Donaldson Defends Securities Commission

Little did the chairman of the Securities and Exchange Commission know when he accepted an invitation to speak at UConn that he'd arrive amidst a swirling storm of economic controversy.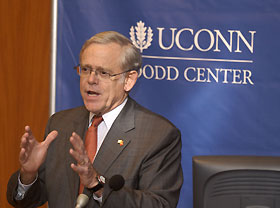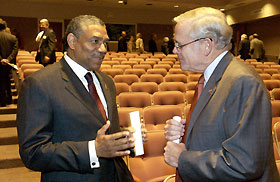 Photos by Peter Morenus
William H. Donaldson, the chief regulator of America's securities markets and chief enforcer of America's securities laws, spoke at Konover Auditorium in the Thomas J. Dodd Research Center Nov. 3. Donaldson was the sixth speaker in the RBS Greenwich Capital Economic Seminar Series.
He addressed an audience that included U.S. Sen. Christopher J. Dodd, D-Conn., UConn President Philip E. Austin, Connecticut business people, students, faculty, and staff, and at least a dozen journalists from throughout New England amid escalating economic woes that include corporate scandals, fraud in the mutual funds industry, and pressure from Congress to reform the role played by investors in governing publicly-traded companies.
In the days leading up to Donaldson's appearance, senators of both parties had reprimanded the SEC about abuses in the mutual fund trading arena; New York State Attorney General Eliot Spitzer had demanded that companies found guilty of abuses pay back to investors hefty fees that totaled in the billions; Strong Mutual Funds Chairman Richard S. Strong stepped down amid multiple investigations into his personal trading; and Lawrence J. Lasser was forced to relinquish his position as chief executive of Putnam Investments after civil fraud allegations were filed against the mutual fund company.
At the same time Donaldson was speaking at UConn, he had sent his SEC officials and enforcers to provide a lengthy list of abuses it had uncovered to a special senate hearing and had directed nearly 450 brokerage firms to notify customers of a pending refund.
Donaldson called for a separation of the regulatory and business sides of marketplaces such as the NYSE, saying that "somehow the competitive instincts of the marketplace need to be isolated from the regulatory aspects."
He said the SEC is involved in a number of areas with the mutual fund industry, and is conducting a large number of investigations, in addition to demanding information from the annuity industry and trade associations, in an effort to enhance industry patrol.
"In the last year, we have filed 679 actions, 199 of which involved financial fraud," he said.
Donaldson noted that he had taken steps both to go beyond being a reactive agency and to improve the management of his agency, a division that was in many ways muffled by under-funding, low morale, and legal constraints on its regulatory and investigative authority when he was appointed by President Bush in February.
He said the SEC has an enormous array of responsibilities, such as trying to implement last year's Sarbanes-Oxley Act, the most comprehensive corporate-reform legislation in 70 years.
"But people are beginning to see that there is a policeman on the beat," Donaldson said, "that some of the perpetrators are being brought to justice, and that the SEC is very active."
He said steps taken by the SEC mirror what he sees within American businesses as "a new attention to the ethics and integrity of companies themselves, the DNA, the soul of a company."
Several audience members said that obtaining the SEC chairman for the lecture series was a major coup for RBS Greenwich Capital and the Dodd Center.
"I was simply delighted that Greenwich Capital could arrange to have one of the most important policymakers in the country visit this campus to talk about what is an extraordinarily hot issue that continues to unfold before our eyes each day," said Fred V. Carstensen, a professor of economics and director of the Connecticut Center for Economic Analysis.
Previous speakers in the series include Alan Greenspan, Chairman of the Federal Reserve; Lawrence H. Summers, former Secretary of the Treasury; Franklin D. Raines, Chairman of Fannie Mae; Gov. John G. Rowland; and Peter R. Fisher, Under-secretary of the Treasury for Domestic Policy.
---