Health Center Trio Takes Part
In Leadership Program For Women

Three Health Center faculty members participated recently in a prestigious academic leadership program for women.
The three are Nancy Adams, professor of medicine and a nephrologist; Susan Reisine, professor and head of behavioral sciences and community medicine; and Sandra Weller, professor and head of microbiology at the Health Center.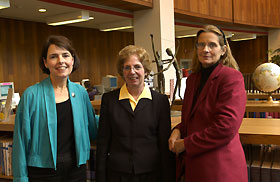 Photo by Peter Morenus
The program is known as Executive Leadership in Academic Medicine (ELAM) and is part of the Institute for Women's Health and Leadership at Drexel University College of Medicine in Philadelphia.
Established in 1995, ELAM is the only in-depth national program that focuses on preparing women faculty at U.S. and Canadian medical and dental schools for senior leadership positions at academic health centers.
Half of the program's 300 former participants now hold senior leadership positions, such as dean or chief academic officer, senior or associate dean, or vice president.
"ELAM is a very intense, comprehensive program on leadership skills that covers the gamut from finance and budgets to negotiating skills and career counseling," says Reisine. "In addition, being away from your job to attend the program allows you to focus on how to improve your own skills and think about career opportunities and priorities."
Through executive training, combined with extensive coaching, networking, and mentoring opportunities, the program prepares senior female faculty at medical and dental schools to move into positions of institutional leadership where they can effect positive change.
Participants are nominated by the medical or dental dean or chief executive officer of their academic health center and then selected by a national committee to attend three educational sessions of five to seven days each.
Sessions are held in the spring and fall, with one coinciding with the annual meeting of the Association of American Medical Colleges in November. Participants are also responsible for independent and group assignments, and a practical project, all of which are completed between sessions.
"The ELAM fellowship provided me an opportunity to learn not only very practical leadership skills, but to interact with a tremendously talented group of women who share many of the same challenges and opportunities as I do," says Weller.
The curriculum, devised by a committee of national leaders from academic health centers and leadership programs, mixes traditional business subjects with topics appropriate to academic health center management.
"The curriculum exposed us to a tremendous variety of topics - from finance to leadership - and then our activities permitted time and opportunity to work with the material we read and heard," says Adams, a former chair of the School of Medicine Council. "It was a great balance between individual and group efforts. It reminded me that each learner - medical student or resident, for example - needs individual and group time to solidify concepts, teach others, and practice collaboration and leadership."
Despite the greater numbers of women matriculating at schools of medicine and dentistry, women are still significantly underrepresent ed within the topmost administrative ranks of the nation's academic health centers, program organizers say.
Placing more women in positions of senior leadership will provide important new perspectives for decision making and help speed the curricular, organizational, and policy changes needed to ensure a more effective, representative, and responsive healthcare system.
"Women are making strides in academic medicine and dentistry," says Reisine. "There are a number of women who are deans of dental schools, more than in medical schools. However, women will have a way to go to achieve parity with men, and lag behind in terms of department chairmanships and other leadership positions."
Another faculty member, Janet McElhaney, associate professor of medicine, who works in the Center for the Immunotherapy of Cancer and Infectious Disease, participated in ELAM when she was on the faculty of Eastern Virginia Medical School.
---