Speaker: Global Struggle For Women's Rights
Must Address Social, Economic Issues

Many factors, not just one, contribute to the struggle of women across the globe to attain gender equity, says a Nigerian gender equity expert, who addressed students and faculty at Konover Auditorium Oct. 2.
Leslye Obiora, visiting Gladstein Professor in Human Rights and a professor of law at the University of Arizona, examined the conditions that facilitate and impede gender-focused human rights initiatives. Her talk was part of the Gladstein Human Rights Lecture series.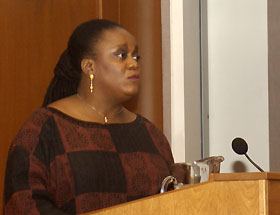 Photo by Dollie Harvey
While "some of the greatest threats to gender equity are said to be cultural in origin," Obiora said, there are other obstacles such as "poor governance, imperialism, and global capital penetrations."
She paraphrased an analogy of philosopher Marilyn Frye to illustrate the point. "A bird is not necessarily entrapped by the individual wires of a cage. It takes a network of wires to constitute an effective barrier."
There are "discernible parallels between Frye's analogy and some lived experiences of women," Obiora said. "Unfortunately, the symbiotic relationships between the variables that mediate gender experiences are often ignored in the articulation of correctives for gender inequities."
She used the metaphor 'firing on all cylinders' to underscore "the complementarity of the five components of the International Human Rights Covenants: civil, political, social, economic, and cultural rights. Suffice it to say that at core, mine is a restatement of the case of the interdependence and indivisibility of human rights."
Obiora discussed certain cultural practices such as female genital mutilation.
"It is not uncommon for international campaigns against this practice to highlight the predicament of women who undergo this practice and portray them as 'prisoners of culture,'" she said.
Yet, she added, "the resilience of this practice demonstrates that its eradication would take more than fancy iterations of a 'just-say-no' strategy.
"How can the international community facilitate the creation of a civic space within which women who oppose collective practices feel empowered to exercise meaningful exit options, and those who desire to affirm or adhere to the practices have the leeway to dialogue and critically interrogate their commitment?"
Obiora said that to solve the problem of gender equity worldwide, social and economic rights need to be integrated into the conception of law.
"What are the prospects for shifting from episodic responses to a much more systematic paradigm for gender and law programming?" she asked. "What is the minimum set of conditions necessary to enhance the responsiveness of gender and law initiatives to the needs of women?"
Obiora, who grew up in Nigeria, trained as a lawyer at the University of Nigeria. She has a law degree from Yale and a Ph.D. from Stanford University. In 1999 and 2000, she was invited by the World Bank to manage its Gender and Law Program.
---