Admissions Director Brings Missionary Zeal To His Job

ames Morales sees a lot of parallels between his job as director of admissions at UConn and his volunteer work in Japan recruiting church members. But it took a while for him to realize that missionary zeal would be helpful in higher education.
In fact, he planned to become a lawyer. But a year into law school, he had what he calls an epiphany and realized higher education would be a better career path. Little did he realize then how much his volunteer work would come in handy in his profession.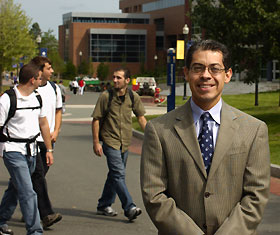 Photo by Dollie Harvey
"There are a lot of parallels between the two jobs," says Morales, who went to Japan as a missionary for the Mormon Church while still an undergraduate. "Both are about promoting and increasing awareness. And both involve helping people."
Morales says one of the nice things about his job in admissions is that he occasionally hears from alumni, who write to thank him for his help years after they have graduated. But since interviews are becoming rarer, most of the students Morales gets to know best have had an obstacle to overcome. "The majority of schools, including UConn, are moving away from interviews with students," he says. "Now you get the information in writing. The interviews are used in unique situations, when a prospective student wants to tell me about what is behind the scenes."
Born in Mexico, Morales grew up in Idaho and Missouri. A former associate director of admissions at the University of Minnesota-Duluth, he came to UConn two years ago, after being heavily recruited by several other schools.
"You could really sense the energy and momentum at UConn," he says. "But the most unusual thing was that everyone I talked to - from the custodial staff to the president - had the same shared vision. What I had heard on the phone, read in papers and online, was reaffirmed in person. And two years later, it's still true."
The momentum isn't likely to stop. UConn's applications this year were up more than 28 percent, with the average SAT score jumping a whopping 20 points. Between 1995 and fall 2002 (2003 numbers are not available until mid-October), at the Storrs campus, freshman enrollment was up 58 percent, with an increase in minority enrollment of 61 percent.
Students today are better prepared and better qualified than they were even two years ago, and the competition between schools has intensified, Morales says.
"The competition pushes us to work hard for the best students," he says. "We will be seeking more high-achieving students, and will be looking to provide more programs to attract them here."
Recent initiatives include fall and spring open houses where attendance is close to 4,000 people each time.
Morales says the success of admissions depends on the involvement of many other departments on campus. His staff work closely with academic departments, and has a special partnership with University Communications, including the Visitors Center, for an integrated approach to recruitment.
In addition to the open houses, other strategies include a series of programs and luncheons for guidance counselors throughout Connecticut, and a recruitment campaign that involves a series of communications with prospective, high-ability students, beginning in their sophomore year of high school. Over the last two years, the names of nearly 80,000 sophomores who took the PSAT and scored between 1100 and 1600 have been purchased, in order for the University to begin building relationships with these students.
In addition, nearly 800 prospective students are hosted by UConn students in the Husky Ambassador program during day visits to the Storrs campus. Thirteen are held in the fall and 16 in the spring. Morales says more than 82 percent of those who attend a Husky Ambassador day visit apply for admission, and 65 percent of that group enrolls at UConn.
He notes that every recruitment effort of the Office of Undergraduate Admissions is infused with a component designed to increase the number of students of color enrolling at UConn. But there are also specific initiatives directed toward underrepresented student populations. One effort, Project Recruit, enables such students to visit the Storrs campus at no cost to them or their school. During the past year, nearly 800 students participated in Project Recruit, which includes a tour of the campus, an information session, and lunch in a dining hall.
In addition, evening dinner programs are held in Bridgeport and Hartford that provide students of color who have been admitted to UConn with an opportunity to ask questions of University staff and hear from alumni.
Morales, who has four children between the ages of six and 15, says the next decade will be filled with changes for incoming college students, some driven by changing technology. "There will be more reliance on electronics, more instantaneous communication, and more self-service, as more people turn to the Web for information," he says.
In the future, college applications may be dealt with first by online clearing houses that will sort them electronically and advise students which colleges are the best match. The system will allow students to apply to more, better-targeted schools with less work, he says.
Students will continue, however, to select schools not only with hard facts but also with the heart, he adds.
"Students and parents look for different things," Morales says. "Students want to go to a school because their friends are going there. They want to go there because their mother went there, or because they perceive it has prestige or is 'hot'. But students need to consider who they are and what their goals are, so that they can choose a school where their aspirations are best fulfilled."
During the next 10 years, Morales says UConn's student body will become more diverse, partly to reflect the rapidly changing demographics of the state. "Hispanics and Latinos will continue to be a prominent market for us. We will have to be prepared to engage and recruit people of color and reach out in every way," he says.
And more students with learning disabilities and physical handicaps will enter college, too.
"We are poised to address the challenges," he said. "We have a lot of new, nice facilities, good programs, and wonderful campuses. But we are only as good as the people we have here. I'm pleased to say we have the best!"
This article is one of a series about the University's academic and non-academic administrators.
---