Music An Effective Tool
In HIV Prevention, Researcher Finds


usic is not only an important part of most adolescents' lives, it can also be a life-saving tool. Anthony Lemieux says sexually active teens who listened to music promoting HIV prevention show an increase in HIV preventive behavioral skills, such as talking to their partner about whether they should have sexual intercourse.
The increase in the sexually active students' behavioral skills was particularly noteworthy, says Lemieux, a doctoral candidate in social psychology, since the intervention did little to directly address these skills.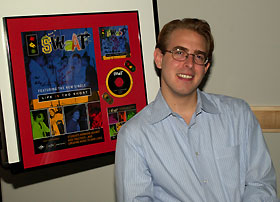 Photo by Dollie Harvey
He found that teens who had never engaged in sexual activity maintained their positive attitudes toward abstinence and felt society supported that choice, after being exposed to the music. Their perceived levels of vulnerability to HIV infection also increased.
"Among adolescents, music is a particularly powerful source of social communication and social influence, especially on social norms and attitudes," says Lemieux. "With this research, we've found that teens can be positively influenced by music. This research is an important first step in using music to slow the spread of HIV among young people."
In a project affiliated with UConn's Center for Health/HIV Intervention and Prevention (CHIP), Lemieux recruited five students from a Hartford high school to write and perform the music as members of the musical group "Students Working Against AIDS Together" (SWAAT). The students selected for the project were musically talented, well respected, highly influential, highly regarded by peers, and people who could credibly promote safe sex or abstinence.
Their first task was to identify problem areas that put their peers at risk for HIV infection, says Lemieux. They then wrote lyrics addressing those problems. Specifically, the lyrics normalized and reinforced abstinence and safer sexual behaviors.
After the lyrics were written, the group performed the song "Life Is Too Short" in a recording studio. Lemieux, a professional musician, recorded and produced the song and had 1,000 compact discs professionally made.
The CDs were bundled with promotional materials that conveyed key HIV prevention information. The group members distributed the CDs and the accompanying materials throughout their high school, first in health classes and then to individual friends and peers. Each time the SWAAT members gave away a CD, they also discussed the music's content and purpose, and the levels of HIV risk associated with various sexual behaviors.
About six weeks before the CD was released, students enrolled in health classes at the high school and two control high schools also in Hartford were given a questionnaire measuring HIV prevention information, motivation and behavioral skills, and the impact of music.
Two months after the CD was distributed, they were given another questionnaire measuring the same items.
In a follow-up study now being conducted, Lemieux is redistributing the CD without the involvement of the SWAAT members. Instead, teachers are giving the song to their students.
"I'm interested in determining whether you can find positive effects when you just use music and remove the natural opinion leaders," Lemieux says. "If you can, it would make for an even more cost-effective intervention that can be widely distributed."
---