David Stern, Dialect Coach, Can Say It
Any Way You Want

One moment David Stern sounds like a crusty old Maine fisherman. Another breath brings on a Texas twang. A flawless French accent follows.
Another day it might be West Indian, Italian, Japanese, German, or any one of 120 other accents and regional dialects.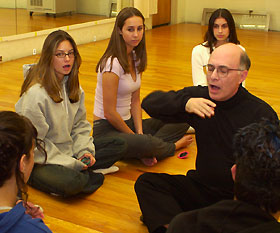 Photo by Melissa Arbo
"I am a consummate imitator," says Stern, a dialect expert and associate head of the dramatic arts department.
Stern, who graduated from UConn in 1969 with a bachelor of fine arts degree in acting, has been teaching here since 1993. He came back to UConn after earning a Ph.D., working at several other universities, and becoming one of the premier voice and dialect coaches in Hollywood.
He is the founder of Dialect Accent Specialists.
"I have had the unusual experience of becoming a professor at my alma mater 24 years after I graduated," Stern says. "It's very nice, because I got to work with my former professors like Nafe Katter, who was one of the first people to direct me in professional quality productions." Stern is now one of two faculty in the department teaching voice and speech classes.
Stern says he knew he had a knack for accents when he was a 10-year-old growing up in New London.
"I'd listen to my father's original cast recordings of My Fair Lady and an older recording of Finian's Rainbow," says Stern, who lived in Brooklyn, N.Y., until he was five. "I'd start singing along with the characters and I realized I could parrot back almost any voice." He entertained his family by parroting back their own Yiddish and Brooklyn dialects, earning the admiration of his father, who was a semi-professional magician and choir singer.
Stern had no idea that he'd end up being a dialect coach when he embarked on his doctoral degree. He earned a Ph.D. in speech from Temple University and thought the theater was behind him. He was then hired at Wichita State in the speech education department.
"At Wichita they had me team-teaching a theater ed course with Audrey Needles, one of the most incredible directors I've ever worked with," he says.
Needles drew him back into the theater, requesting that he help coach some of her students in dialects.
"So I was teaching voice and speech and was starting to play around with dialect coaching in Audrey's productions, and some other directors asked me to do the same thing," he says.
But while he was coaching, Stern was struck by something.
"I was not initially as successful as I thought I'd be," he says, "because I assumed everybody learned accents the way I did: by parroting. But that wasn't the case. No matter how slowly I modeled the accent for them, most of the students couldn't imitate it."
Stern says perhaps as few as 20 percent of actors have the ability to skillfully imitate speech patterns.
He realized he had to develop a new technique to teach successfully. He studied as many accents and dialects as he could, building a library of some 100 cassettes.
"I took a recorder wherever I went," Stern says. "Being on a college campus was wonderful because there were students from all over the world. I would also have an audio recorder plugged into my television at all times, and would see who was going to be on the talk shows or debates."
He also had to start looking at himself.
"I literally started going inside my own head, my own speech mechanisms, and analyzed what I was doing," he says, placing his hands on either side of his jaw. "The first question I asked is where, in or around my mouth, am I feeling the vibration, the energy? Later I refined that."
Stern says that while correct pronunciation is "absolutely necessary, the most important part of dialect's authentic essence comes from a characteristic shaping of the throat, nose, mouth, tongue, and soft palate. The many configurations give resonance to the overall sound."
In 1977, Stern left Wichita to take a job at Penn State as a voice, speech, and dialect professor in the theater and film department. It was there that he got a grant and developed the first series of instructional tapes, "Acting With an Accent" where, in his own voice, he demonstrates the changes necessary to effectively create accents.
After three years at Penn State, Stern says, he sold everything he had that "wouldn't fit into a hatchback" and drove to Hollywood. "I squirreled enough money to live for a year and my tapes were selling well."
He quickly became a household name, and was hired to coach actors including Jack Klugman, Lynn Redgrave, Julia Roberts, Cicely Tyson, Mike Farrell, Shelley Long, Stephen Baldwin, Geena Davis, Liam Neeson, Forest Whitaker, and Michael York.
After 12 years in Hollywood, he decided to come home.
"Here at UConn, accents and dialects are of secondary importance," says Stern, noting that only 15 percent to 20 percent of his time is spent on teaching these topics.
"The most important part of my job is protecting the physical health of the actors' voices," he says. "If I can get them to play heavily emotional moments, yelling and screaming without any strain, that is the single most important thing that I do."
Accents can add or detract from an actor's performance, Stern says.
"In general, doing accents adds significantly to the transformation and to the reality of a totally different persona," Stern says. But, he adds, "sometimes an accent can detract from a performance. If the accent is not well integrated into a performance - if an actor is thinking about sounding New York, or thinking about sounding French - then it becomes the presentation of a disembodied speech sound. So one of my jobs is not just teaching the actors the technique for producing the accent, but showing them how it can and should be an integral part of each character's moment-to-mom ent interaction."
---