Fuel Cell Center Powering Up
With Solutions To Energy Problems


he establishment of the Connecticut Global Fuel Cell Center at UConn could not have come at a more fortuitous time.
During the past two months, gasoline prices have skyrocketed; a gas pipeline in Arizona sprang a leak, causing rationing at gas pumps; and a malfunction at an Ohio power plant is thought to have been the trigger for a massive blackout in the northeastern United States and Canada.
These events have propelled the case for developing renewable energy sources, particularly fuel cells. One of the few bright spots in New York City during the power outage came from a fuel cell-powered police station in Central Park.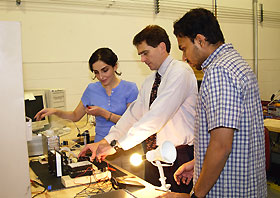 Photo by John Collins/UCIMT
Although the Connecticut Global Fuel Cell Center is in its infancy, its first research projects bode well for its future.
"While it takes time to establish a new center and build relationships with industry and government, we are well on our way," says Amir Faghri, dean of engineering, who led the charge to establish the center.
"Fuel cells are the future," he says. "Countries and private industry around the world are investing significant amounts of money in fuel cells, and the University and School of Engineering are well positioned to play an integral role in the advancement of its many technologies."
Flourishing Center
The center opened its doors at the Depot Campus just 18 months ago, but currently enjoys more than $17 million in funding from state, federal, and private sector sources. The team is already wrapping up several major research projects, while juggling the demands of another seven. The research group includes two endowed chairs (another four are yet to be hired), and 40 affiliated faculty from the School of Engineering and the chemistry and biology departments.
A Broad Focus
Nigel Sammes, the center's operational director, who holds the UTC endowed chair in Fuel Cell Technology, has been on board just over a year and is pleased with the range of projects the center has attracted.
"Our goal from the beginning was to establish a fuel cell research center like no other," he says.
And, it seems, the engineering school has indeed set itself apart from others. The Connecticut Global Fuel Cell Center is an interdisciplinary effort encompassing all aspects of fuel cell systems and employing the team's wide range of research strengths. They include but are not limited to: heat and mass transfer, materials and polymers, design modeling, and manufacturing.
"The center is taking a wider focus because no one type of fuel cell will be the winner, as no single energy is the winner now," Sammes explains. "Each type of fuel cell - from polymer to solid oxide - will have its own applications and strengths, and we will have the expertise to handle their varying facets."
In a matter of weeks, the group will deliver a prototype for an advanced portable fuel cell system to the U.S. Army. The center received a $2.3 million grant last year for the project, which involved 15 UConn faculty.
The portable direct methanol fuel cell power system will be capable of producing up to 150 watts of power.
It could be used in the battlefield for cooling or running electronic equipment.
This year, a second major award worth $3.5 million came from the U.S. Army for the development of a miniature or micro fuel cell. The military, in its efforts to improve mobility and energy efficiency, is looking for a micro and miniature fuel cell. The lightweight, multi-use portable fuel cell will be about the size of a battery and will be used by individual soldiers to power laser, video, and thermal sights for weapons; helmet-mounted video displays; and even atmosphere-control devices mounted withinspecial uniforms.
Independent Testing
Another component of the center began powering up this month. With a $1 million grant from the Connecticut Clean Energy Fund, the center has established a fuel cell stack testing laboratory.
A stack is just that: one fuel cell stacked atop another. The bigger the stack is, the greater its power. The center will test and evaluate stacks of up to 100 kilowatts, and provide companies and scientists with comparative data on the performance, operational characteristics, and durability of fuel cells and technical progress.
According to Sammes, the grant has enabled the center to take on a critical role in advancing fuel cell technology. Fuel cell customers, including the military and utility companies, and fuel cell developers such as the automobile industry, conduct tests in widely varying conditions.
In addition to developing new technologies, notes Sammes, "we have also become an independent testing resource able to supply realistic, unbiased results," he said. "We can clarify claims and help validate the capabilities of competing fuel cell technologies. It is a service that exists nowhere else in Connecticut."
A one-kilowatt proton exchange membrane fuel cell system, under development by Proton Energy Systems of Rocky Hill, is currently undergoing tests at the center. Since secrecy is vital for the sake of competition, Sammes cannot share any details about the project.
A larger unit from GenCell Corp. of Southbury is due in shortly. The 40 kilowatt molten carbonate fuel cell will undergo testing and analysis as well.
Faghri is pleased with the center's development to date, and confident of its continued success.
"The potential impact of this evolving technology cannot be overstated," he says, "and we are proud to do our part in placing Connecticut at the very forefront, leading the nation in the development of novel fuel cell technologies that will benefit our nation and future generations."
---