Kendall Recognized For Accomplishments
In Research, Teaching


or Debra Kendall, professor of molecular and cell biology, research, teaching, and outreach are inseparable. A highly successful researcher in the field of membrane protein structure and function, she is also in high demand as an educator, mentor, editor, and reviewer.
"Science isn't science unless it's communicated," she says.
In a professional career that spans 20 years, Kendall's research has attracted more than $4 million in external funding from sources including the National Institutes of Health, the U.S. Department of Agriculture, and the North Atlantic Treaty Organisation (NATO).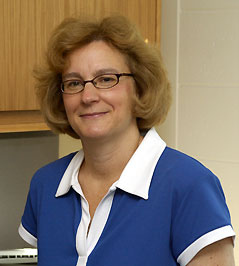 Photo by Dollie Harvey
One project, which involves using the bacterium Escherichia coli (E. coli) as a model system, and a combination of mutagenesis, biochemical, and biophysical strategies to understand the complex process of transporting water soluble proteins through the greasy hydrophobic environment of a membrane, has received 20 years of uninterrupted funding from NIH through 2007.
The focus of the project, Kendall explains, is to examine how a tag called a "signal peptide" and the "mature region of a secreted protein" interface with components of the secretion machinery; and to probe the structural aspects that render these components receptive to membrane translocation.
Although E. coli is used as a model, the project has potential applications for all organisms. The process of transporting protein across membranes, from the compartment where it is made to the compartment where it is needed, is something all cells must accomplish.
Understanding how selected proteins in the membranes that surround and subdivide a cell transmit signals to the cell's interior is critical in designing drugs that can target disease in the body without harming what is healthy.
A second project examines the receptors that bind to the psychoactive component in cannabis. The project has applications in drug addiction, pain, and obesity research. Kendall is studying the molecular details of the structure of the receptor in membranes and how they transfer signals across cell membranes in mammals.
Although the two projects are distinct, they use some similar strategies. For example, Kendall uses cutting-edge molecular genetic methods to modify proteins at the level of DNA, changing the amino acids and then observing how that affects the way the protein functions.
Multifaceted Approach
To accomplish her work, she seeks out perspectives from other disciplines.
"It's helpful to be able to apply different areas of expertise to a research problem because that's when novel insights are often made," says Kendall. "My colleagues have a wide variety of scientific skills, and that provides fertile ground for me to learn different experimental strategies."
It is Kendall's multifaceted approach that makes her work special, says Larry Hightower, a professor of molecular and cell biology and acting head of department. "What is novel about Debbie's work is her ability to bring different approaches to bear on a project," he says, "not just conceptually, but in getting things to work at the bench as well."
Kendall's approach has earned her a national reputation. She is on the editorial board of The Journal of Biological Chemistry, the premier journal in her field, and has been a highly sought-after member of national review panels on microbiology and chemistry. She recently completed work as a member of the NIH's physiological chemistry study section, and was earlier the acting director of an NIH-sponsored research program for disadvantaged high school students.
Earlier in her career, the NIH honored her with an Individual National Research Service Award for studies involving peptide hormones and the structures they adopt when interacting with target membranes. In 1996, she received a Career Advancement Award from the National Science Foundation.
Kendall's research has also attracted the attention of some of the country's leading pharmaceutical companies. She has received research funds from Pfizer, and this year gave a presentation at Merck's corporate headquarters in New Jersey, on the molecular interactions that drive protein translocations in E. coli.
"Between 25 and 50 percent of all bacterial proteins are exported from the inside of the cell to other locations," says Kendall. "An inhibitor of that process in bacteria could be an effective therapeutic agent.
"One of the components we're studying in the transport process of proteins is found in bacteria and plants, but not in humans," she says. "This makes it an ideal target for drug discovery and could impact the development of antimicrobial agents. If you could develop a drug that targets a bacterial infection, but not harm human cells, then it would reduce the potential for side effects."
Teacher and Mentor
Kendall joined the UConn faculty in 1989. She received her Ph.D. in biochemistry from Northwestern University and a B.A. in biochemistry from Smith College.
Her interest in scientific research was sparked when she took part in an intensive program at the Jackson Laboratories in Bar Harbor, Me., while still a high school student. The lab is at the forefront of biomedical genetics research.
Now, Kendall nurtures a love of science among her students. Her lab includes undergraduates as well as graduate students and post-doctoral fellows, and she teaches popular courses at both graduate and undergraduate levels. The waiting list for her undergraduate course on Human Disease and the Development of Therapeutic Agents is typically double the class size.
Kendall is also one of two faculty responsible for a post-baccalaureate pre-med program with the Health Center. Her work with the program was recognized in 2001 by the UConn chapter of the AAUP, which presented her with an award for service excellence.
The program prepares participants who didn't major in the sciences, many of whom have already been in the workforce, for admission to the UConn School of Medicine.
Her drive for excellence in all aspects of her work is recognized by her colleagues.
"Deb Kendall is that rare colleague who can perfectly balance the demands of university research and teaching," says Hightower. "A successful research career in biology these days requires the management skills and aggressive competitiveness of an entrepreneur ial business person."
Hightower says Kendall also represents the best in teaching, both instilling confidence in students and providing them with an intellectual challenge. "It is exceedingly rare to find this mix bundled in one brain and organized in a way that allows excellence in both endeavors," he says. "Deb has it."
This spring, Kendall's achievements gained University-wide recognition, when she was named a Board of Trustees Distinguished Professor, the University's highest award for faculty, that recognizes exceptional distinction in scholarship, teaching, and service.
---