Enthusiastic Response To New Waterbury Campus

Sophomore Tara Dean isn't sure what she likes best about the new downtown Waterbury regional campus - the plasma screen televisions in classrooms to help students follow lessons, the spacious hallways, the new library, or just the fact that the entire campus is under one roof.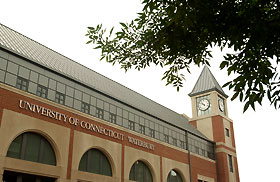 Photo by Peter Morenus
But, the Naugatuck resident says, she is sure of one thing: "I'm really glad I'm here. The old Hillside campus was like a high school. This is much more of a college setting. And I think all the students are pretty excited about it."
There is a constant stream of chatter and other activity in the gleaming new U-shaped complex. Throughout the building, anywhere there is a chair or table, students are studying, reading, or talking with friends. The half-dozen tables in the large indoor courtyard are filled with students with their books, notepads, and newspapers open. Between classes the halls fill with noise, as students scurry to their next class or join friends, creating clusters of activity.
"The level of interaction between the students and the space is fascinating," says Edna McBreen, associate vice chancellor for the Tri-Campus system. "We anticipated that students would spend more time on campus here than at Hillside, but we were not optimistic enough.
"It's an excellent facility, and it's absolutely fascinating how the students are reacting to it," she adds. "It's a different world. And we've made Waterbury a different world, too."
After 18 months of construction - and several years of planning - the new downtown campus opened in its new home at 99 East Main Street on Aug. 25.
Members of the University community and the public will have an opportunity to explore the new facility on October 9, when tours will be offered after an 11 a.m. dedication ceremony.
The three-story building's features include 10 classrooms, four seminar rooms, a large lecture hall, four computer labs, a large library with cathedral ceilings and study carrels encircling the mezzanine on the second and third floors, and 38 faculty offices. All are within easy walking distance of each other. Also within easy reach is the heart of downtown Waterbury, with its shops, restaurants, a park, and access to mass transit.
The old Hillside Campus, on a hill overlooking the city, comprised a library, a classroom building, and a half-dozen old houses, weathered and worn with age. Some professors also taught at the Higher Education Center located several miles away.
"The new campus is beautiful," says James Morales, director of admissions. "And just as UConn 2000 has helped drive our enrollment in Storrs, I think more and more students in the Waterbury region are going to notice us and the quality of education they can receive only minutes from their home or job, and continue to push our enrollment in the city."
There are 677 undergraduates enrolled at the campus this year, more than a 20 percent increase compared to last year's 563. In fall 2001 there were 536 students.
Most students at the campus are taking two-year programs and will transfer to another campus to complete their degrees; but students can also complete a degree in business or urban studies at the Tri-Campus, of which the Waterbury campus is a part. MBA, MSW, and BGS degrees are also offered.
"I think that, after 49 years in education, this is the best, most exciting time I've experienced," says Francis Brennan, director of the Waterbury campus. "Not only did we move, but we radically changed the whole culture. We not only got new space, but dramatically increased our enrollment, put all our programs under one roof, installed extraordinary technology, and put a lot more demands on ourselves because the students stay in the building longer."
One problem created by students staying on campus - a 283-space parking lot connected to the campus is often full - was recently ameliorated when Brennan signed a one-year agreement with the City of Waterbury that allows faculty, staff, and students to use a nearby municipal parking garage, free of charge.
Within another 12-18 months, two other projects - a 1,200-student art and music magnet school and a renovated Palace Theatre - will open across the street from the regional campus building's front door, adding to the revitalization of the area. Additional parking spaces may become available when the Palace Theatre renovation, which includes a 1,100-space garage, is complete.
Faculty at the campus are enjoying their new surroundings.
"It's gorgeous," says David Bedding, an associate professor of physics at the campus who took early retirement in June, but returned this year to help with the influx of students. "It's clean, modern ... my lab is top-notch. It's everything I could ask for."
Donna Salinardi, an adjunct professor who has taught math at the Waterbury campus for 20 years, is enthusiastic too. "It's different being under the same roof with all the other faculty," she says. "Different and enjoyable. And I love the cleanliness and the airy feeling, with all the windows and the open spaces."
Valerie Santana, a sophomore from Waterbury whose family recently moved to Connecticut from Puerto Rico, particularly enjoys the sense of space. Besides attending classes at the new campus, she also landed a job in the bright, high-ceilinged library.
"It's really nice. There's much more space. And there are a lot of places where you can sit and study or be with friends," she says. Santana expects to transfer next year to Storrs or Avery Point, where she will major in marine sciences.
Now that the new building is open, McBreen already is turning an eye to the future and to making the campus even better.
"Our challenge now is to continue improving the quality of programs we already have, while bringing some others in - bachelor's programs in psychology, American studies, family studies, and the master's in nursing," she says.
Another challenge, adds McBreen, will be to find more furniture for the growing numbers of students.
---