For Books On the Supernatural, Ask The Librarian

As humanities reference librarian at Homer Babbidge Library, Richard Bleiler guides patrons with ease through a library full of material on medieval literature, drama, and theater, to name just a few areas within his specialty.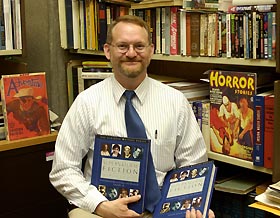 Photo by Dollie Harvey
With two writers as parents, books have always been in his blood. While his mother's tastes ran more toward opera, Richard shares his father's fascination with fantasy, horror, and science fiction writing. And, like his father, he has turned that interest into a series of comprehensive assessments of practitioners of the genre.
So the first stop for an inquiry about the spooky or the strange might be under "Bleiler" in the library's reference section.
Richard was a contributor to E.F. Bleiler's Supernatural Fiction Writers: Fantasy and Horror, which profiles authors from Apuleius in the second century A.D. through the year of the book's publication, 1985. And now Richard has extended that coverage as editor of Supernatural Fiction Writers: Contemporary Fantasy and Horror (Scribner's 2003).
"My father's book took a predominately historical approach," Bleiler says. "Seventy-five percent of the people in it were dead."
Richard Bleiler picked up where his father left off. His two-volume book includes 2,500- to 7,000-word biographical sketches, descriptions of individual works, and bibliographies of 116 British and American writers who have been active since 1985, from Peter Ackroyd to Roger Zelazny.
The book has enjoyed critical success. It received a 2003 New York Public Library "Best of Reference" award and was nominated for a Bram Stoker award for nonfiction by the Horror Writers Association.
Bleiler says that in compiling the work, he was trying to appeal to several groups of people, including librarians "who need to be able to find critical information, particularly unbiased critical information on these writers," as well as students and researchers.
The editing process involved a lot more than just running spell checks on the contributing writers' entries. To begin with, Bleiler had to identify both the authors to be profiled and the writers to draft the articles about them. His original list of about 100 names grew considerably during the give-and-take with potential contributors. "Whenever possible, I thought it would be great to get the writers themselves to write about who had influenced them," he said. A number of article authors are also profiled.
His goal was to include not only writers who are academically influential, but also those who enjoy wide popularity, such as Anne Rice. Another who made the cut was the fabulously successful creator of the Harry Potter books: "Some people like to jump on J.K. Rowling," Bleiler says. "She is sometimes not a terribly skilled prose writer, but always a very good storyteller. She makes reading fun and very pleasurable."
Bleiler says it took about a year to assign, receive, and edit the submissions: "Some people literally had theirs in a week later. And some people went up to and beyond my deadlines." A couple of the articles were not quite up to snuff, so Bleiler - no pun intended - ghosted them: "No names, but you can find my style."
He profiled Stephen King in his father's book, and updated that essay for his own volume. He described King's critical reputation as at best uneasy, and offered this assessment: "King's best work may have been completed, or it may lie ahead, but he has succeeded at writing what interests and amuses him, in a style that made him accessible to millions and made him the literary equivalent of a brand name, and for that if for nothing else he shall be remembered."
His father returned the favor, contributing an article about Welshman Rhys Henry Hughes.
The Bleilers have also collaborated on several books devoted to American science fiction, which became popular in 1926 when Hugo Gernsback published a magazine called Amazing Stories. Bleiler has posters of a number of the magazine's covers in his office in Babbidge Library.
Bleiler, who lives in Willington, holds master's degrees from Ohio State and Texas. As humanities reference librarian at UConn, where he has been for almost 10 years, he is responsible for maintaining the collections relating to English and American literature, medieval studies, theater, and drama. He also coordinates the library's education and outreach programs.
He is one of the contributors to Babbidge's "Ask Homer" service, where patrons can submit research questions that range from the profound to the obscure. Someone once asked for a list of scholarly papers on poet/songwriter Rod McKuen. Bleiler was able to locate a few articles, but concluded with the tactful observation that "he would appear to be largely unstudied."
Supernatural Fiction Writers is the 14th book that Bleiler has written, co-authored, or edited. His next project is compiling an annotated bibliography of reference works that can be used to research mystery and detective fiction.
Bleiler does not expect to join Rowling on the best-seller list, although Supernatural Fiction Writers has already been through two printings.
A review in the Washington Post called the individual essays well worth reading and, noting the book's hefty price tag of $250, suggested that fans of the genre "... try the library, and plan on spending a happy afternoon."
But if you plan to read it at night, best to leave several lights on.
---