Defense Department Grant To Boost
Critical Languages' Program

The events of September 11, 2001 gave America dozens of wake-up calls: lax airport security; breakdowns in communication in a wealth of agencies and businesses; failures in intelligence gathering and information sharing; and a glaring need for more citizens to be trained and fluent in any number of languages.
The Department of Defense hopes UConn can help where languages are concerned, and it is backing up those hopes with a $475,000 grant to the Department of Modern and Classical Languages to expand and enhance its offerings.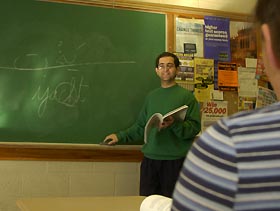 Photo by Dollie Harvey
"We want to enhance all our critical languages, but we're using Arabic as a focus not only for the obvious reason, but also because we already have a pretty good amount of student interest in the language," says David Herzberger, head of the department.
Adds Ed Benson, director of critical languages: "Arabic is used in so many places, it's very important economically for more people to speak it well."
About half of the federal grant will be used to convert and outfit a classroom into a critical languages laboratory, with powerful laptop computers, three servers, and an "advanced teaching station," says Benson.
But the key to success, he says, is that the department now has sufficient funding to extend its critical language offerings into a fifth and sixth semester, which allows the department to expand language lessons into conversation and composition, and this can be followed by a semester or year abroad.
"Three years of in-depth language studies plus a year abroad will get the student within shouting distance of having superior language ability," says Benson, defining the latter term as being able to "negotiate and persuade" in the target language.
Benson says it's vital that more people become fluent in critical languages, not because they're needed as spies, but to work in foreign countries to forge business deals for American companies, or to work in any of a number of federal agencies.
Barbara Lindsey, director of the language labs, says the hardware and software include Apple's "Universal Locker," a web-based digital storage solution that will provide students and instructors instant access to course files and media materials from anywhere at anytime. It is also possible to customize each student's desktop environment to reflect the language of study.
Each laptop comes equipped with a WebCam, so students can interact with native speakers and other language learners throughout the world in real time. This, combined with bundled software that allows students to create movies or presentations as part of a student portfolio of projects that tap particular language skills, will increase students' exposure to and practice with the target language. Students can burn the completed projects onto a CD or DVD or turn them into a QuickTime file and post them on the web to share with others throughout the world.
Benson says there are currently 16 students enrolled in Arabic and 11 in Mandarin Chinese, another language he says the department would like to expand.
The critical languages - Hindi, Korean, Portuguese, Russian, Vietnamese, and Haitian Creole, as well as Chinese and Arabic - usually involve small numbers of students and are primarily self-taught. Students have contact with an instructor for about two hours a week, a period Herzberger hopes to increase, using some of the funding.
"These self-taught students are very focused, very committed. They need approval from their advisor and very good grades to take one of the critical languages. Often, they've had success in and can speak one of the traditional languages. They're very motivated and usually have a very specific reason for wanting to study a critical language," Herzberger says.
This sort of commitment is essential, he adds, in order to start learning a language "that isn't even remotely close to the Romance or Germanic languages. The critical languages are not easy to learn."
Herzberger, Benson, and Lindsey hope the changes made possible by the Department of Defense grant will make learning a critical language at UConn a tad easier - and a lot more efficient.
---