Airport Security Device Being Adapted
To Improve Food Safety

A machine used by the U.S. Coast Guard to detect trace amounts of cocaine and other drugs may soon be used to detect Listeria and other pathogenic bacteria in meat.
The machine, also used in airports to detect explosives, would permit meat-packing plants to scan sides of beef and other meat products to detect the harmful bacteria before meat is shipped to grocery stores and restaurants.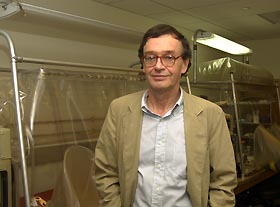 Photo by Dollie Harvey
Robert Vinopal, professor of molecular and cell biology, is collaborating on the project with Claudia Koerting, assistant research professor of marine science, and J. Richard Jadamec, both of the Coastal Environmental Research Lab, an Avery Point-based lab that works on applied and basic research and development. They are working to calibrate the machine and develop sampling methods to detect bacteria. If they are successful, a meat inspector could use a wand to "swipe" a side of beef and learn on the spot whether or not it is contaminated.
"We hope our research will provide protection to the public and save money for the meat industry," Vinopal says. "We hope to use science to make it easier to know that what you are buying in the supermarket is safe to eat."
The $35,000 machine allows researchers to test for bacteria at a cost of only about 50 cents a test, compared with more than $5 for traditional tests. It also provides results in less than a minute, rather than requiring the bacteria to grow in a lab medium, which can take 36 hours or more. Other new rapid methods, that give results in a few hours, cost $15 or more a test, limiting their use.
"Many of these tests take several hours, are expensive, and are not reliable enough for general testing," says Vinopal. "Cheap testing means that much more testing can be done, making detection much more reliable."
The one-minute tests would permit meat-packing plants to isolate the meat with the bacteria and destroy it. Rapid testing could save, in some cases, million of dollars.
Currently, swabs are taken for traditional testing and then, before the test results are received, the meat is shipped to stores across the nation. If the samples test positive for bacteria, the meat must be recalled. And because it is impossible to isolate just which batches of meat the bacteria contaminated, widespread recalls are required - often at tremendous cost.
Certain strains of Listeria monocytogenes can be deadly to humans, especially to children and older people. These bacteria can grow even in a refrigerator. They are killed by thorough cooking, so most cases of disease occur as a result of eating uncooked or undercooked meats, most often processed meats such as hot dogs and cold cuts. But the deadly bacteria can also be found in items such as smoked salmon and soft cheeses.
The machine being used applies ion mobility spectrometry to measure the characteristic speed at which ions move through air in an electric field. Samples are heated and volatile compounds in them enter a reaction chamber, where they are charged to create positive or negative ions. The machine graphs the properties of the ion and can be programmed to recognize certain patterns.
In airports, the machines and their operators are in multiple locations and skilled security personnel monitor what they detect from a central computer facility.
This, Vinopal says, could also be done in a meat-packing plant, where the skilled technicians could confirm whether or not alarms from processing lines are due to the presence of Listeria strains harmful to humans.
The work is being supported by grants from the American Meat Institute Foundation and the U.S. Department of Agriculture.
---