Young Scientists Get A Taste
Of UConn's Engineering Programs
By Sherry Fisher
Stacy Dickie, a high school senior, holds a flaming marshmallow with a pair of tongs. Jeff Lombardo, another senior, scribbles some notes on a strip of paper. They are comparing the combustion of marshmallows, sugar cubes, and sugar cubes dipped in ashes.
Nearby, senior Denis Evangelista pours soapy water into short and long drainpipe cups, set up over red pails. Members of his group watch closely and talk about which will drain more quickly. "The short tube loses air faster," says one of the students. "The water sort of seals itself off like a straw," says another.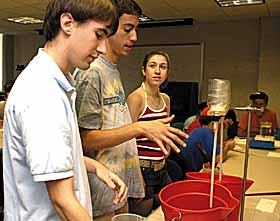 Photo by Dollie Harvey
Packed into a lab in the Engineering II building, these high school juniors and seniors are conducting experiments during a session called Chemical Engineering Balderdash, led by Tom Anderson, associate professor of chemical engineering. They are among 80 high school students from around the state who got a taste of engineering during a one-week residential program at Storrs.
Participants in the program, Engineering 2000, got hands-on experience and learned about the engineering options offered at UConn during the last week of June.
"This program is important because engineering isn't taught in the high schools," said Marty Wood, assistant dean for undergraduate education in the School of Engineering, who coordinated the week's activities. "It introduces them to the field and the various engineering professions."
Some of Connecticut's top students enroll in the program, he said. During the day, they learn about engineering disciplines offered at the University through demonstrations and hands-on activities. In the evening, they focus on their special areas of interest through the Young Engineers Scholars Science program, working on building and designing special projects within their selected engineering discipline.
Many students said they hoped the experience would help them decide which field of engineering to pursue in college.
Sarah Parker, a senior at Trumbull High School, said she isn't sure whether she wants to study chemical or biomedical engineering. "This program will help me decide," she said.
Elsewhere on campus, students explored civil and environmental engineering, electrical and systems engineering, mechanical engineering, biomedical engineering, metallurgy and materials engineering, and computer science and engineering.
Richelle Manalang, a junior at Sacred Heart Academy in Hamden, said she is interested in math and science and "decided to try this to see if I'm interested in engineering or not." So far, she said, "I like it. I wouldn't mind doing this."
Back in the laboratory, Anderson moves from group to group to asking questions. "Did the sugar cube burn better with the ashes?" he asks. "Remember to keep your explanations of the phenomenon brief." The students discovered that neither sugar cube burned as fast as the marshmallow, but adding ashes did speed combustion of the cube.
Several students doing an experiment called "The Big Chill" appear puzzled. After dipping two small metal pipes in an ice water bath, they are asked if the pipes cooled at the same rate. Obviously one pipe cooled faster. Eventually it was revealed that one of the pipes was a specially manufactured device designed to conduct heat at a much faster rate than conventional copper.
Anderson says the students are "learning and having a good time. One of the reasons we do this is it helps increases the exposure of UConn to the high schools. We hope some of the students will choose to come to UConn for engineering."
---