Week-Long Institute Promotes
Understanding Of Middle East
By Sherry Fisher
Fifteen teachers from around Connecticut immersed themselves in Middle Eastern issues including history, geography, literature, arts, and religion, during a one-week institute at Storrs in June, "Understanding the Middle East, 2003."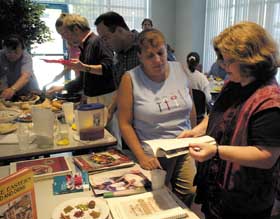 Photo by Dollie Harvey
The program was designed for K-12 teachers and library media specialists to learn more about the Middle East, "a critical region that has received little attention in America's schools and universities," according to Metin Cosgel, associate professor of economics, who organized the institute.
The program's goal is for teachers to develop curriculum materials that will provide a format for students and their families to learn about the region.
"We hope they will develop lesson plans to integrate into their existing curricula that will provide an innovative format for students and their families to learn about the Middle East," said Cosgel.
"Educators must provide developmentally appropriate information about Middle Eastern cultures that move children beyond stereotypical and superficial levels," he added.
Made possible by a grant from the Connecticut Humanities Council, the institute was sponsored by the Committee for Middle East Studies and the Office of International Affairs. The program included lectures, films, panel discussions, hands-on activities, and sampling the cuisine of the region.
Jan Asikainen, a second grade teacher from Glastonbury, said attending the institute was a "huge opportunity" to learn about an area that is "skipped over in world civilization. I've had a lot of questions from children since September 11, and we don't have good answers."
Shawn Santasiere, who teaches World Civilizations at E.O. Smith High School in Storrs, hoped to learn more about the culture and history of the Middle East to share with his students. "So much curriculum in schools surrounds conflict, terrorism, and war," he said. "I want to get kids to debunk stereotypes about the region and the people who live there."
Priscilla Judson said she wants her students to think "more globally. I have always had a personal fascination with Middle Eastern culture, and want to share new information with my students," said Judson, a special education teacher in the Hartford Public Schools.
Presentations during the institute included sessions on the history of the Middle East; women in the Middle East; Islam; modern Israel; and democracy, Iranian style.
Mark Wentzel, UConn's director of International Services and Programs, discussed how to interact with children from the Middle East in the classroom during a presentation titled, "Common Ground: Learning about Middle East Families in Your Schools and Communities."
"You want to create an environment so every child feels validated and feels as important and empowered as the child next to him," Wentzel said. "Think about different things you can do when you want to include groups within the classroom that may feel a little more marginalized."
It is important to understand cultural differences and values when working with children and families of different backgrounds, he said. "Here are some questions to ask yourself: Am I able to recognize direct and indirect communication cross-culturally? Am I sensitive to children's nonverbal cues? Am I aware of cultural and linguistics groups among the Middle Eastern groups? Show an interest, an appreciation of these."
"Teachers also need to ask themselves, 'Am I aware of my own feelings about Middle Eastern groups?'" Wentzel said. "Teachers need to be aware of their own discomfort or bias."
Participants will complete curricula for their particular classes and demonstrate how they will use them during two follow-up sessions in the fall. Implementation of completed curricula will be evaluated during the 2003-04 school year.
---