Connecticut Crew Versatile, Responsive,
Integral To Marine Research
By Richard Veilleux
Turner Cabaniss lives "a five-minute bike ride" from the University's Avery Point campus. For professors from UConn and other institutions who use the RV Connecticut, the Marine Sciences Department's 76-foot research vessel, that is a very good thing.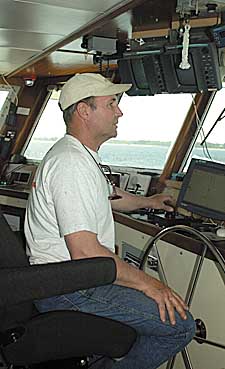 Photo by Dollie Harvey
"We operate 24 hours a day," said Cabaniss, the ship's captain for the past five years and now marine operations manager, as crew members prepared for a trip aboard the research vessel last month. "Every day, there are changes. A two-week trip becomes a 10-day trip, the weather turns bad, things break."
But just as the ship adjusts to the waves, Cabaniss and new Captain Dan Nelson adapt to their ever-changing schedule.
"We're here to provide a platform for the researchers," says Nelson. "We do what we have to, so the researchers can do their job."
That attitude, combined with the consistent efforts of the crew, make the five-year-old vessel a popular tool for marine researchers from UConn, the Woods Hole Oceanographic Institution, and other New England universities.
"The crew are a great group," says Peter Auster, a UConn faculty member and science director for the National Undersea Research Center. "They're easy going, and they'll bend over backward to help you get your work done.
"It's a real partnership when you're out, and the Connecticut's crew makes it work," Auster adds.
George McManus, a professor at the Avery Point campus who teaches coastal systems science and marine biology, and whose class occasionally does research on board the Connecticut, also has high praise for the crew. "They're friendly, helpful, they do whatever you need," he says.
That's what Cabaniss likes to hear.
"We provide a full-service platform," says Cabaniss. "We provide technical support for all the instrumentation on board, help researchers get the information they want. We also buy the food, cook, and serve three meals a day. If their plans change, we change with them. We're a cross between a yacht and a commercial boat - the professors are our guests."
Dan Nelson, now the ship's captain, knows a bit about how to treat guests. For 16 years before coming to UConn he piloted a corporate yacht for a fast-growing electronics firm in Boston.
"The owners used the boat for employees and customers," says Nelson. "I'd take the bigwigs out nights or weekends. For nine years, we were docked in the Caribbean during the winters, taking guests out for sails."
When the company was sold, Nelson came to UConn as chief engineer of the Connecticut, then a brand new vessel.
On board the ship during a recent research trip, crew members Nate Miller and Dave Cohen pull a sampling instrument from the water. Several high school students, who will become freshmen in UConn's coastal studies program in September, gather around, as Miller and Cohen explain what the instrument measures.
Beyond the science and helping researchers complete their work, Cabaniss and Nelson also are exceptionally careful. It can be a dangerous vessel, says Cabaniss, not only because the ocean can be unforgiving, but because there is heavy equipment on board - several massive cranes are used to swing sampling devices over the side or off the stern of the ship, and a host of winches and cables that raise and lower a variety of other instruments can grab an unwary guest.
Safety becomes even more of an issue when dozens of high school students, including a group from the American School for the Deaf, come aboard for the high school Aquanaut Program, says Ivar Babb, director of the National Undersea Research Center at Avery Point.
"These programs put some requirements and demands on the crew the researchers don't," Babb says. "They perform some research, just like we do, but there are 20 to 25 young students and they're more energetic" than the professional researchers with whom the crew normally works.
The crew "has to ratchet the safety issue up another notch," Babb says. "Accommodating a bunch of ravenous kids with three squares a day from the galley is also a test, but they've responded to it all in a great way."
The crew is called upon to respond often. Cabaniss, the former captain, says he and the crew were at sea 180 days in 2002, and they are already scheduled for about 140 days this year. Over the course of a year, that may not sound like much, but, Cabaniss points out, they don't get busy until April or May, and they shut the operation down in October, a span of less than 200 days at best.
---