Bone Specialist Receives First
Health Center Faculty Recognition Award
By Kristina Goodnough

awrence G. Raisz, a physician at the Health Center who specializes in bone biology, has been named the first recipient of the Health Center's new Faculty Recognition Award.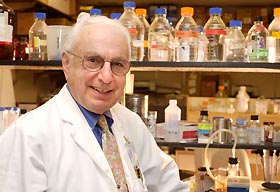 Photo by Peter Morenus
The award was established by the Health Center's Board of Directors to recognize and celebrate excellence in faculty members. Dr. Raisz was chosen for his sustained accomplishments in all three domains that comprise the Health Center's mission: clinical care, scientific investigation, and teaching.
He received the award, which carries a $10,000 prize, during Commencement ceremonies at the Health Center in May.
"This award recognizes Larry Raisz's sustained nationally and internationally recognized achievement and meaningful scholarship in bone biology research and his excellence in the clinical care of patients with osteoporosis," saysy Dr. Peter Deckers, executive vice president for health affairs and chair of the committee that recommends potential award recipients to the board. "With the award, we celebrate Larry's medical intelligence, his academic contributions and scholarship, and his altruism and superb mentorship of trainees - the core components of the consummate medical professional."
Since joining the Health Center in 1974, Raisz has helped foster steady improvement in education, clinical care, and research, Deckers says.
"We started with a very small research program," says Raisz, whose own research began with an interest in calcium metabolism. "We built it slowly because we couldn't afford to do it any other way. I now can look back with pride on a substantial number of faculty who were brought in as trainees and stayed on to build new programs."
From 1993 to 2002, Raisz served as program director of the General Clinical Research Center, which provides support services for clinical research. During that time, the number of visits by patients involved in clinical trials grew from fewer than 800 to more than 8,000.
He was instrumental in winning funding for the Center from the National Institutes of Health in 1993, and five years later successfully steered the Center's first renewal application for continued NIH funding.
Dr. Richard Berlin, associate dean for research, planning, and administration, notes that clinical research "takes concepts developed in the laboratory and applies them to care for humans. You have to be able to work with people, pursue funding, and cope with the minutiae of scientific research," he says. "Larry has shown that it can be done and he has served as an outstanding role model for several investigators who are now well known for their own clinical research."
Raisz blends clinical care, research, and teaching. In addition to seeing patients, he is principal investigator of an NIH grant studying the effects of prostaglandins on bone metabolism, and is working on clinical studies aimed at translating the knowledge gained in the laboratory to the solution of clinical questions. And he is scientific editor of the Surgeon General's Report on Osteoporosis and Bone Health, scheduled to be released next year.
He says he is looking forward to moving his laboratory into a new research building on campus that will house the Musculo-Skeletal Institute and a new outpatient surgery center.
Raisz teaches a class in organ systems to first-year students, a course on clinical research to doctors, residents, fellows, and Ph.D. students, and lectures to students on bone biology and osteoporosis. But he is best known for his mentoring of young doctors and researchers in the General Clinical Research Center.
Raisz says he is delighted to be the first recipient of the new award. "The Health Center is its faculty," he says, "and I think it's great to provide some recognition."
---