Rare Species Found During BioBlitz
By Carol Davidge

iodiversity isn't just in the rainforest, it's everywhere, even in the midst of a city.
In New London on June 6-7, scientists identified nearly 1,700 species in three city-owned parks in New London during the Connecticut State Museum of Natural History's annual BioBlitz.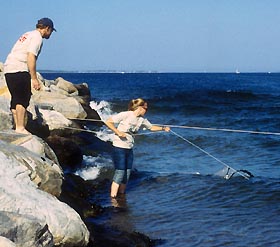 Photo by Alyson Bahr
During the survey of three city-owned parks - Bates Woods, Ocean Beach, and Riverside Parks, for the first time including Long Island Sound and shoreline species - 160 scientists from UConn and other institutions searched and identified every animal and plant they could find for exactly 24 hours. By 3 p.m. on Saturday, the scientists had counted 1,691 species.
Of special interest were a number of rare insect species, one federally endangered bird, a colony of two-lined salamanders with hundreds of eggs, a black lichen, a bacteria from Brazil floating in a pond, and unusual plant pathogens and fungi.
The total included: 400 vascular plants, 91 bryophytes and lichens, 84 photosynthetic protists, 21 plant pathogens, 85 fungi, 31 bacteria, 91 birds, 17 fish, 13 amphibians, 7 reptiles, 12 mammals, 96 non-arthropod invertebrates, 80 non-insect arthropods, 21 mites, 255 butterflies and moths, and 387 other insects.
On one of the restored dunes at Ocean Beach Park, David Wagner, an associate professor of ecology and evolutionary biology at UConn, found a moth so rare it is a first for UConn's extensive entomological collections, Apamea inordinata. He said the discovery demonstrates the importance of habitat conservation and restoration of damaged habitats.
He said the insects discovered and collected during BioBlitz will be preserved at UConn to be used by scientists "for centuries to come."
Jane O'Donnell, manager of scientific collections for UConn's Department of Ecology and Evolutionary Biology, led a team of entomologists that discovered a trap-jaw ant believed to be a new find in the state. O'Donnell also found a flatbug, one of the family of true bugs, that is as thin as a sheet of paper.
Plant specialists, led by Les Mehrhoff, manager of the George Safford Torrey Herbarium, found a rare one-flower cancer root. And a black lichen, one of the 91 bryophytes and lichens found, is a new species for UConn's collections.
Margaret Rubega, assistant professor of ecology and evolutionary biology at UConn and an ornithologist, organized birders, who identified the federally endangered roseate tern at Ocean Beach Park, and several species on the state list of species at risk: the least tern, common loon, brown thrasher, American oyster catcher, and red-shouldered hawks at a nest with three nestlings.
Elizabeth Jockusch, an assistant professor of ecology and evolutionary biology, was among a group of herpetologists who found an unusual colony of two-lined salamanders.
UConn scientists were joined by specialists from the American Museum of Natural History, Yale University, Connecticut College, the state Department of Environmental Protection, and the Connecticut Valley Mycological Society.
The BioBlitz also received significant community support this year. "Although it was rainy and cold, over 750 people attended to learn more about biodiversity in our own backyards," said Leanne Harty, interim director of the Museum, who organized the event. "We hear much about the negative impacts of people on the environment, but BioBlitz is an opportunity for children and adults to have a positive impact in the future by making concern for the natural world an active part of their daily lives."
---