Top Chefs Savor Haute Cuisine At UConn

By Sherry Fisher Move over, Julia Child: Frank Cameron, executive chef for University catering, had his culinary expertise validated when he planned and prepared the annual dinner for 90 members of the Connecticut Chapter of Les Amis d'Escoffier, an exclusive society of chefs and food aficionados. Cameron is a member of the society.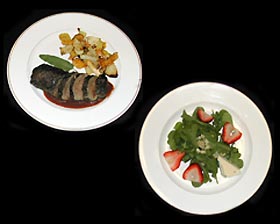 Photo by Courtesy of Dining Services.
Dedicated to the promotion of the highest standards of fine dining, the society was created to honor the memory of culinary master Auguste Escoffier (1847-1935). Author of Le Guide Culinaire, Escoffier is known as the father of modern cuisine.
Cameron created the menu for the black-tie event, which took place June 2 in the Rome Ballroom. Escoffier dinners are usually held at outstanding restaurants or resorts.
"It was the most prestigious thing that I could do," says Cameron, who has been a chef at UConn for the past 25 years. "It was an honor to be chosen to have it here. They had the confidence that I had the knowledge to produce a dinner of this caliber."
Twenty-one student servers comprised the waitstaff, and seven chefs from catering and dining services prepared the food.
The event, a five-hour, seven-course extravaganza, began with hors d'oeuvres and concluded with an array of desserts. A selection of wines from across the globe complemented each course. The menu, in French and English, included many recipes that had been served at other UConn events.
"Everything had to be done to perfection," Cameron says. "The food had to be seasoned perfectly, displayed flawlessly and served impeccably. And it was."
Guests were treated to hors d'oeuvres ranging from pistachio-crusted lamb chops and black and green olive tapenade bruschetta, to fresh figs with white wine and currant sauce. Dinner courses included Chilean grilled sea bass, peppercorn-crusted roast loin of venison with blackcurrant reduction, grilled ostrich served with wild mushrooms in a mustard shallot sauce, and strawberry and arugula salad served with hazelnut dressing. A white chocolate banana bread pudding with semi-frozen cream, sliced bananas, and a bourbon caramel sauce, was the chef's specialty dessert, which, by tradition, is never written on the Escoffier menu.
The waitstaff, personally selected and trained, served the guests in white-glove, European fashion. Upon a nod from Richelle Meneses, the maitre d', the waitstaff would serve every fourth person at the same time, moving down the line in unison until everyone was served.
Cameron is proud of the students. "They did an outstanding job," he says. "We had many accolades about the service.
Chris Panton, who has worked for catering services for several years, said he was "really exciting about doing it. It was something new." He also enjoyed learning about the Escoffier Society.
Cameron and his staff were recognized that evening for their efforts with the presentation of a special medallion, the Escoffier Medal of Honor, for exceeding the expectations of the society.
"I think they were surprised that the University had the talent to handle a dinner of this caliber," Cameron says. "That was very pleasing. The applause and standing ovation were worth every hour that I didn't sleep."
---