Gehry Chosen To Design New Fine Arts Complex
By Allison Thompson

orld-renowned architect Frank Gehry was named the winner of the School of Fine Arts' architectural competition on June 9. As the winning designer, Gehry, who teamed with New Haven firm Herbert S. Newman and Partners for the competition, will provide a conceptual model for an integrated Fine Arts complex.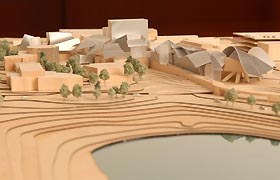 Photos by Peter Morenus
Gehry, who is perhaps best known for designing the Guggenheim Museum in Bilbao, Spain, and his team were chosen at the culmination of a design competition that spanned several months and attracted top names from the architectural world.
"During all stages of the competition, it was clear that Mr. Gehry and his team were enthusiastic about this project and had a clear understanding of the School and the University's vision," says David Woods, dean of the School of Fine Arts. "We're thrilled that a design by architects as well-known and well-respected as Mr. Gehry and Mr. Newman will one day grace our campus."
The winning design integrates existing Fine Arts buildings into one design on the southeast corner of campus; features a building that connects directly to the proposed village green; and has Gehry's trademark metal roofing. The design was unveiled on June 6, when Gehry and two other competition finalists presented their ideas for the new building to a jury of architects and University representatives, President Philip E. Austin, and a standing room-only crowd in Konover Auditorium. After presentations from each of the three finalists, the jury reviewed each architect's designs and models, and selected Gehry and his team as the winner.
More than 50 architects entered the design competition. Seven were selected to come to campus in March to make presentations to a committee of Fine Arts faculty members. That group was then whittled down to three well-known architects - Gehry and Newman; Zaha Hadid, whose designs include the Rosenthal Center for Contemporary Art in Cincinnati, Ohio; and Mack Scogin/Merrill Elam Architects, who designed the law library at Arizona State University in Tempe. The contest was funded by a $75,000 grant from the National Endowment for the Arts, which was matched by the University.
Gehry and Newman's design will be built with funds from various sources, including 21st Century UConn and private donations. 21st Century UConn, an 11-year, $1.3 billion program, will begin in 2004-2005. The Board of Trustees will determine the sequence in which all buildings constructed with 21st Century UConn funds will be built.
---