Passion For Work Beats Big Paycheck,
Payne Tells Graduates
By Sherry Fisher, Pat Keefe,
Elizabeth Omara-Otunnu, Allison Thompson
Undergraduate Ceremony
Make the world a better place and don't make money your prime goal in life, Les Payne, a Pulitzer-prize-winning journalist told about 3,400 UConn undergraduates in his commencement address during twin ceremonies at Gampel Pavilion May 17.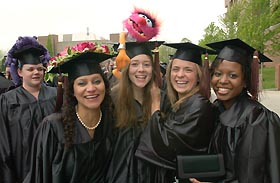 Photos by Peter Morenus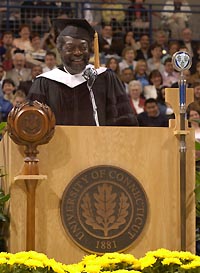 Payne, a UConn alumnus and editor at Long Island's Newsday, said passion for one's work is more important than a big paycheck.
"Don't stick with a job simply because it is secure and pays well," said Payne, who received an honorary doctor of letters degree. "There are too many professionals holding down good paying jobs that they hate. Find a vocation that you can throw your life into."
Payne told graduates not to let the economy worry them. "It's cyclical and it will bounce back," he said. "Meanwhile, be flexible. Don't hold out for that signing bonus, that less-than-ideal job. Consider a spot with Teach for America, the Peace Corps, or perhaps start your own business. Grad school is good."
Payne is founder and former president of the National Association of Black Journalists. He won the Pulitzer Prize in 1974 as part of an investigative team that tracked international drug trafficking and produced a series titled "The Heroin Trail."
Four honorary degrees were awarded during the ceremonies: Frederick Fennell, a leading conductor of music for wind instruments, received a doctor of fine arts degree; John Kluge, chairman and president of Metromedia Company, a doctorate of humane letters; Henry Lee, renowned forensic scientist, a doctorate of science; and Gordon Parks, award-winning photographer, a doctorate of fine arts.
Graduate Ceremony
Arthur Levitt, former chairman of the United States Securities and Exchange Commission, told the 1,738 graduate and professional degree recipients during Commencement ceremonies in Gampel Pavilion May 18 that they must be seek out new opportunities. "There is no such thing as job security," he said. "The only true security is knowing how to do a variety of things." He said his own career, after graduating with a degree in drama, included working as drama critic for a local newspaper in Massachusetts, selling livestock to wealthy people in search of tax shelters, and starting a brokerage house.
He also told graduates not to compromise their values.
"In recent years," he said, "too many people have mistaken the quest for fame and fortune as the over-riding ethic of their lives." Referring to recent scandals involving plagiarism in academia, a reporter who concocted stories for the New York Times, and accounting irregularities that led to the collapse of Enron, he said: "There may be a quick and seemingly easy way to make money or win fame, but it will take infinitely longer to restore any damage to your good name."
Levitt was awarded an honorary doctor of laws degree. Daniel Dennett, a renowned cognitive scientist at Tufts University, also received an honorary doctor of humane letters degree.
During the ceremony, Jay Mihalko, who received a master's degree in education, had the audience spellbound when he held aloft a sign asking his girlfriend, Sarah Davis '01, to marry him. He then rushed over to her, proposed on bended knee, and offered her a ring. "Well Sarah, what's your answer?" asked Peter Halvorson, university marshal. Davis announced that she accepted.
Law School
According to Law School commencement speaker Albie Sachs, a justice on the Constitutional Court of South Africa, the 172 students who received a juris doctor degree and the 30 who received a master of laws degree May 18 are becoming part of an America that helps and respects other nations. That tendency to stand with and assist others is exemplified by UConn's work with South Africa, Sachs said.
As a justice on South Africa's Constitutional Court, Sachs is very much a part of his country's efforts to shape its future in the post-apartheid era. The Court's approach is to break the cycle of violence, Sachs said.
"We believe we as a court, as a society, must take initiatives in that regard," he said. To that end, the Court's new home will be on the site of a former prison in Johannesburg. By housing the Court there, people will see that it is possible to turn something negative into something positive.
Sachs's autobiographical book,
The Soft Vengeance of a Freedom Fighter, which deals with his recovery from a car bomb placed by South African security agents in 1988 and his eventual appointment by President Nelson Mandela in 1994 to the Constitutional Court, is now being dramatized for film.
Health Center
Thirty-two dentists and 77 physicians graduated at Commencement exercises held at the Health Center May 19.
The graduation address was delivered by Dushanka Kleinman, chief dental officer of the Public Health Service and deputy director of the National Institute of Dental and Craniofacial Research at the National Institutes of Health.
Dr. Kleinman noted that this class's graduation date coincided with the anniversaries of two key events in the history of discovery: the Lewis and Clark expedition two centuries ago, a wondrous journey of exploration at the time, and the discovery of the DNA double helix 50 years ago, a finding that changed the face of science forever.
"All in this room are counting on you," she said. "We see you as the public health army of the future. Armed with the power of informatics and practices focusing on the health of the public, you are the builders of non-traditional, evidence-based medicine and dentistry."
Dr. Peter J. Deckers, executive vice president for health affairs and dean of the School of Medicine, emphasized the importance of the doctor-patient relationship.
When treating patients, he told the graduates, "You must always allow first and foremost a deep exploration of the human element." In a time of managed care and when medicine was under pressure, it is exceptionally important for practitioners to continue to emphasize and do everything within their ability to strengthen the doctor-patient relationship, he said.
During the ceremonies, Dr. Harald Löe, former dean of the dental school, was awarded the University Medal; Dr. Lawrence Raisz received the first Board of Directors Faculty Recognition Award; and Dr. Philip Leder of Harvard University was awarded an honorary degree for his contributions to genetic research.
---