Husky Ice Cream To Hit Store Shelves
By Richard Veilleux

he smooth, sweet, creamy taste of UConn Huskies Dairy Bar Ice Cream will splash into shakes, plop into bowls, and sit atop cones across the state this summer, as the University's favorite comfort food lands on grocery store shelves.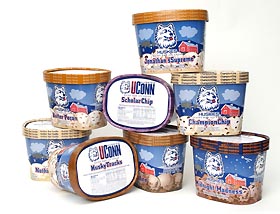 Photo by Peter Morenus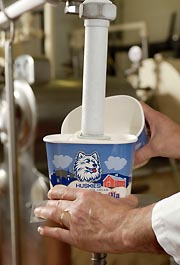 The product, to be sold in Stop & Shop, Big Y, and IGA supermarkets, will feature eight new flavors. Royalties from sales will support academic offerings in the Department of Animal Science, which has produced the frozen confectionery for more than 50 years.
"UConn ice cream is a great advertisement for the University," says Chancellor John D. Petersen. "It makes perfect sense to let people sample another quality UConn product. And the fact that the sales will help enhance our academic mission is icing on the cake."
Although the 21 or so flavors of ice cream sold in the UConn Dairy Bar will continue to be made and served in Storrs, flavors in retail distribution will be made by Royal Ice Cream of Manchester, a family business that has been making ice cream for 77 years. The mix for all the ice cream - in Storrs and at retail - will be provided to UConn's specifications by Guida Milk and Ice Cream of New Britain, which will also distribute the product.
An initial run of about 25,000 half gallons will be delivered to stores in Connecticut, Western Massachusetts, and Westchester County, N.Y., the week of July 7, says Tony Cusano, CEO of Shelfspace Marketing of North Haven, who brokered the deal.
James Orfitelli, president of Royal, says he can't wait to get started. "The UConn ice cream is starting with a great basic mix and really nice ingredients," he says. Some changes in producing the ice cream - an increase in butter fat to 14 percent from 12 percent and an increase in the density of the ice cream - are expected to make it even better.
"This is a super premium product," says Cusano, whose company also markets Husky salsa, tortilla chips, and potato chips. "With all due respect to the other premium ice creams on the shelves, UConn Huskies Dairy Bar Ice Cream will be as good as it gets."
Packaging for the ice cream has been updated. Instead of the generic, rectangular cartons that have held UConn ice cream for decades, the ice cream will be sold in four-color, oval tubs, with depictions of Horsebarn Hill and the Jacobson Barn.
The varieties will reflect the University's academic and athletic prowess, and the puns are very much intended: Nothin' But Vanilla; Midnight Madness; 4.0 Chocolate; Scholar Chip: Husky Tracks; Champion Chip; Butter Pecan; and a local favorite, Jonathan's Supreme.
The ingredients of the two newest flavors, Midnight Madness and Scholar Chip, are being kept secret until the product is delivered. The butter pecan, vanilla, and Champion Chip are self-explanatory. Husky Tracks features vanilla ice cream with fudge swirl and peanut butter cups, while 4.0 Chocolate is made with real Dutch cocoa.
To begin with, the ice cream will be sold in about 200 Stop & Shop, Big Y and IGA grocery stores but, once sales get under way, there will be many other possibilities. "We'll probably go to pints for sale at convenience stores, and three-gallon tubs for arenas and maybe ballparks before the summer ends," says Fred Hethcote, director of capital projects.
The idea to market the ice cream was devised by Dale Dreyfuss, vice chancellor for business and administration. He says the decision to enlist outside help was necessary because "there really isn't sufficient capacity here to produce the quantity of ice cream we need for the retail market."
Kirklyn Kerr, dean of the College of Agriculture and Natural Resources, says royalties from the sales come at a good time. "We're not in business to be a business but clearly, as our budgets are squeezed, we have to become more entrepreneurial," he says. "We'll use all the revenue from sales to support student programs."
UConn will receive 10 percent of the wholesale cost of the product. Officials hope to earn at least $50,000 per year from the sales.
---