Perkins Played Critical Role In UConn's Growth
By Richard Veilleux
During a nearly 13-year tenure at UConn, Lew Perkins guided the Division of Athletics into one of the most successful programs in the country. He retained top coaches and provided the support they needed to compete successfully at the highest echelons of intercollegiate athletics. And, not as well known but equally significant, he playing a significant role in securing both UConn 2000 and 21st Century UConn.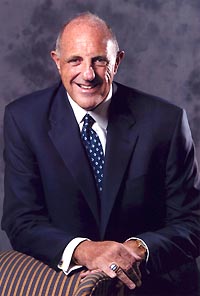 Photo by Peter Morenus
"Lew Perkins' contributions to UConn have been exceptional," says President Philip E. Austin. "During the past 13 years, he brought UConn athletics to the front ranks of intercollegiate competition, made Connecticut a national model in Title IX implementati on, led the University to six national championships, and made our athletics program a point of pride for the entire state.
"Throughout his stewardship," adds Austin, "UConn's intercollegiate athletics program has consistently met high ethical standards, and the academic performance of our student-athletes has been outstanding."
Perkins will leave the University in early July, when he will become director of athletics at the University of Kansas. He will be replaced by Jeff Hathaway, his assistant for nearly all of his years in Storrs, who spent the past two years as athletic director at Colorado State University.
Perkins' biggest success was in upgrading the football program to Division I-A level and guiding the effort that led to the construction of a $90 million football stadium in East Hartford. The Huskies play their first game in the stadium Aug. 30 against Indiana.
"Lew actively leveraged the success and visibility of UConn athletics to benefit the entire University," says Scott Brohinsky, director of university relations. "He used his access to places and people to advocate for the University's most important needs and aspirations.
"Lew leaves a profoundly different university than the one he encountered when he arrived," Brohinsky adds. "He has made a lasting contribution."
Perkins' tenure at UConn was a memorable one: the Huskies won six NCAA Division I national championships, 37 Big East regular season, and 33 Big East tournament championships. The Huskies also made 60 trips to NCAA Championship competitions. In addition, the University experienced tremendous growth in athletic facilities, fund raising, and corporate sponsorships during Perkins' time in Storrs.
Street & Smith's Sports Business Journal named Perkins Athletic Director of the Year in 2000, an honor based on his overall leadership during the previous 10 years. That same year, UConn's athletic teams set a single-season record for overall winning percentage (70.8 percent).
"Lew Perkins has left a positive mark on UConn through his goals of excellence in athletics and academics," says Scott Brown UConn's NCAA faculty-athletics representative and a professor of educational psychology. "He has been a strong proponent of striving to be the best in whatever we do, on the field and in the classroom, as exemplified by multiple national and Big East championships and graduation rates on a par with the full student body.
"His trademark will be UConn football in the Big East because of his vision and leadership," Brown adds. "UConn is a better place because Lew Perkins was our athletic director."
---