Hathaway Named Athletic Director
By Karen Grava
Jeffrey Hathaway, director of athletics at Colorado State University in Fort Collins for the past two years, will become UConn's athletic director in early July, President Philip E. Austin announced June 10.
Hathaway, 43, was senior associate athletic director at UConn from 1990-2001.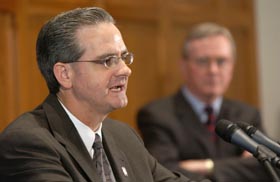 Photo by Peter Morenus
"We are very happy to welcome Jeff Hathaway back to UConn," said Austin. "Jeff is an outstanding leader in university athletics, whose presence will provide stability and continued progress to UConn's Division of Athletics at this very important time. Jeff knows the University intimately, has been closely involved in all aspects of University athletics, and played a key role in our many successes. He has the respect of University faculty, staff, and administrators, including our coaches and Division of Athletics staff. He has achieved outstanding success at Colorado State and that extra dimension of leadership experience only adds to an outstanding set of credentials."
During Hathaway's tenure at Colorado State, he oversaw a comprehensive athletics program. During the 2002-2003 academic year, the Rams won four Mountain West Conference championships, and a total of seven teams advanced to postseason play.
The school drew national attention last spring, after it received a $15.2 million gift from the Bohemian Foundation for football stadium renovations and expansion.
Hathaway replaces Lew Perkins, who will become athletic director at the University of Kansas in July. Hathaway worked with Perkins at both UConn and the University of Maryland, and considers him his mentor.
"My family and I are thrilled to be returning to the University of Connecticut," said Hathaway. "UConn is a tremendous institution and I am very proud to be named to this position. I look forward to working with the student athletes, coaches, and administrators here.
Hathaway said his focus is on the student-athlete: "The continued academic success of our student-athletes will always be the primary concern of our program," he said. "In addition, our mission is to provide a quality experience in intercollegiate athletics for our student-athletes, and quality recreational services for all UConn students."
Hathaway came to Connecticut in November 1990 as senior associate athletic director. In that role, he oversaw the day-to-day operations of the Division of Athletics. He played a key role in the upgrade of UConn's football program to Division I-A status and the building of Rentschler Field - the new home of Husky football, located in East Hartford - that will open on Aug. 30.
Prior to his first stint at UConn, Hathaway served for eight years in a number of capacities at his alma mater, the University of Maryland. He also worked as director of community relations for the Chicago White Sox from 1981-82, and as public relations assistant for the Washington Redskins in 1980.
Hathaway earned his bachelor of science degree in athletic administrati on from the University of Maryland in 1981. He later received a master's degree in general administration in 1991 from Maryland, and is working on a Ph.D. in educational leadership from UConn.
Hathaway assumes the post at a critical time. On June 6, Gov. John G. Rowland, Attorney General Richard Blumenthal, and University President Philip E. Austin announced that UConn, along with four other members of the Big East Conference, is suing the University of Miami, Boston College, and the Atlantic Coast Conference (ACC) over the imminent defection of the schools from the Big East to the ACC.
The lawsuit, filed in Hartford Superior Court, accuses the defendants of breach of fiduciary duty, unjust enrichment, violation of the Connecticut Unfair Trade Practices Act, and other violations of law. The University of Pittsburgh, Rutgers University, Virginia Tech, and West Virginia University joined UConn as plaintiffs in the lawsuit.
"Our action is not just about lost revenue, but rather the importance of maintaining viable and successful intercollegiate competition and honoring long-standing commitments," said Rowland.
According to the lawsuit, officials from the defending schools repeatedly promised and assured their Big East partners they had no intention of leaving the Conference and were not engaged in conversations with the ACC over joining that conference. Based on these assurances, UConn and several other Big East schools poured hundreds of millions of dollars into improving their athletic facilities, entering into long-term leases with stadia, foregoing other potential revenue streams, and making other investments in the future of their athletic programs.
The lawsuit seeks unspecified monetary damages - expected to be in the millions of dollars - and penalties. It also seeks an injunction to lessen the effects of the defendants' conduct.
Information from a press release issued by the Attorney-General's Office was included in this article.
---